As long-time readers are surely aware, I'm a retro gaming nut and, within that classification, am a particular fan of the roguelike / dungeon crawler genre. Gamers like me were handed real treat early last year when ChronoSoft released Rogue Touch [App Store], an iPhone adaptation of / enhancement to the 1980 genre-defining Rogue. One of my absolute favorite iPhone games, Rogue Touch really takes me back to those long hours spent in front of Rogue on my Atari ST back in 1987.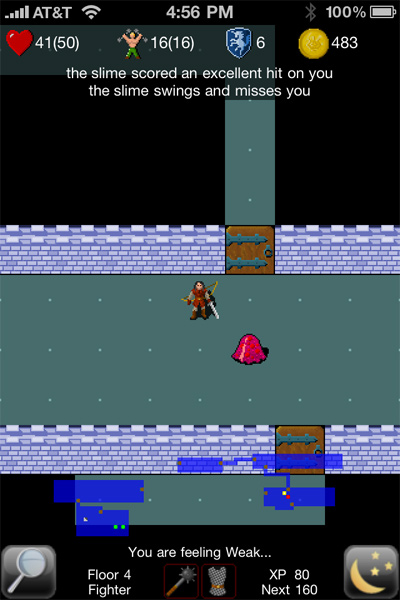 Developer Kevin Hill has done a great job of updating the game since its initial release, and in ways strongly shaped by the user community in the Touch Arcade forums, Kevin tells me. He's just released version 1.52 of Rogue Touch [link] that addresses iOS 4 performance issues along with a number of other enhancements:
Hotfix for daemon saving issue at home button press / incoming call answer
iOS 4 speed improvements (any device will play faster now!)
Nymphs no longer steal the *last* item of your pack, but a truly random magic item from you
Venus Flytraps now prevent you from going down stairs if held in their vines
Scroll of Safe Passage fixed- it would actually *hide* previously found traps without disarming them. Not anymore!
Tweaks to search messages (scrawlings and gold in cracks will be less frequent)
Slimes will no longer split when hit with a War Hammer 🙂
Knockback Attacks! You have a chance to push back a monster with each successful blow you strike! The chance grows with increased strength and higher experience levels. Monsters that get pushed into a wall or another monster take additional damage!
It's great to see the game continue to evolve and, in fact, Kevin indicates that the version 1.5.3 update will be submitted this week, offering Retina Display text-support, Fast App Switching / Multitasking support, even faster speeds under iOS 4, and maybe a new magic item or two. But that's not all the news he had to share from the world of Rogue Touch…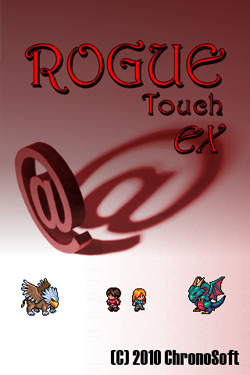 The developer, alongside his forthcoming Spirit Hunter Mineko, is presently working on Rogue Touch EX, a take on the formula that should have greater appeal to more casual gamers than the original.
Rogue Touch EX is a side project. It is planned to be a more slick, streamlined experience utilizing knowledge gained in working on Spirit Hunter Mineko this year. The "EX" stands for enhanced and extended. Core gameplay will remain "Rogue", but the presentation will be unlike any version of Rogue ever seen. The fact is most people find rogue-likes unappealing to look at, but may actually enjoy the game if given a chance. Rogue Touch EX and Spirit Hunter Mineko are different takes on the idea of making a more appealing experience.
Major features of Rogue Touch EX, as listed by the developer:
Professional sprite artwork and more animation, improved lighting effects, everything presented on screen using OpenGL for fluid motion
It will be a universal app, with high resolution support on iPad and iPhone 4 Retina Display
An analog / swipe anywhere control scheme, improved context actions, and inventory system
Gamecenter support
Rogue Touch EX is in the early stages right now, and should see an App Store release sometime later this year. Fans of the original can rest assured that it will continue to evolve alongside the new title. We'll keep readers informed as more details emerge surrounding all of ChronoSoft's works in progress.