A little over a year ago Paul Pridham of Madgarden, who teamed up with Jeff McCord to bring us the iPhone / iPad roguelike Sword of Fargoal [App Store], released an iPhone version of his own take on Dan Gorlin's 1982 Brøderbund classic Choplifter. The developer's v1.3 free update to the game has just gone live in the App Store [link], turning the title into a Universal application that takes full advantage of the iPad's large display, among other enhancements.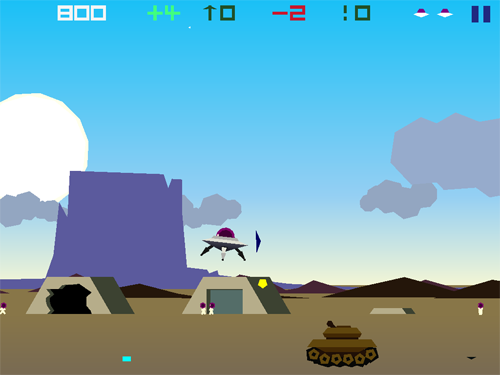 In Saucelifter, gameplay involves flying your tilt-controlled saucer to various Earth prison barracks, blasting open the doors, picking up your captive crewmates, and dropping them off at the transporter where they're beamed safely back to your alien world.  This is made challenging by evil Earth forces, including tanks, laser turrets, fighter jets, and flying attack drones.
There are a lot of nice touches to the title. The stylized, vector-based 2D graphics lend the game impressive visuals, with a day-into-night changing skyline that adds nice variation to the scene. A letter-box effect alters the aspect of the play area to provide early warning of incoming enemies. It's very well done.
The full list of the enhancements that v1.3 brings, as listed by the developer:
New saucer!
New reptoid super weapon!
Saucelifter is now a universal application
iOS4 multitasking support
Support for both landscape orientations
Fixed sound that was too quiet
Gameplay tweaks
It's a nice list of enhancements, but the developer has already submitted the v1.3.1 free update to the App Store that brings iPhone 4 Retina Display support as well as control refinements. I'm presently playing v1.3.1 on my iPhone 4 and it looks beautiful.
See our video of the initial release version of the iPhone original.
Choplifter was the first game I fell in love with on my first Apple computer, an Apple //c, back in 1984. Saucelifter is a superb enhancement on the formula and pays faithful homage to the Dan Gorlin masterpiece. Since its release, I've counted Saucelifter among my five absolute favorite iPhone games and, after enjoying the Universal build of the game for several weeks now on my iPad, I don't expect that to change anytime soon. Whether or not you've ever played Choplifter, Saucelifter is one not to be missed.