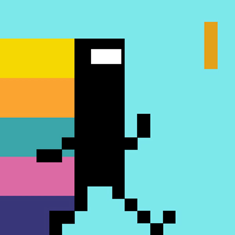 There's something special on the way to both the iPhone and the iPad for lovers of rhythm games, lovers of 8-bit retro-styled games, and, most especially, lovers of both styles all mashed up together. Gaijin Games has teamed up with Namco Bandai to bring an adaptation of their Wiiware title Bit.Trip Beat to the App Store.
One of a series of four Bit.Trip titles by Gaijin (published through the Wii Shop by Aksys Games), Bit.Trip Beat is something like a cross between Pong and Rez as an accelerometer-equipped Atari 2600 might play them. The game puts you in tilt or touch control of an on-screen paddle with the goal of bouncing waves of oncoming blocks whence they came. The impact timings of the aforementioned blocks are synched with the excellent chiptune audio track while abstract / futuristic animations float in the backdrop, both of which give the game its sort of Rez dynamic. And, it's all done up in brilliant colors and oh-so-lovely jaggy, chunky pixels.
The further you progress through the game, successfully returning oncoming blocks, the more complex and evolved the visual presentation becomes. Miss too many blocks, and the visuals slowly regress to a simple, black and white state, in another apparent nod to Rez.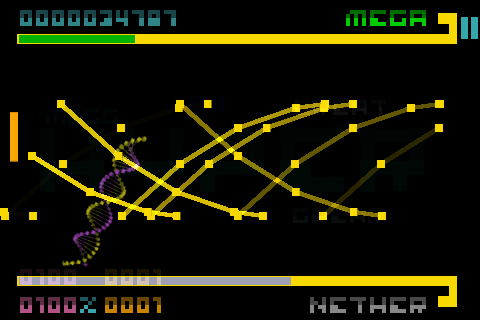 The iOS versions of Bit.Trip Beat will be enhanced beyond the Wiiware original. The only real criticisms that can be found in the many positive reviews of the original are the small number of levels — three, each with an end boss — and the lack of an online leaderboard; both of these points are being addressed in the new versions. Aside from leaderboards, additional levels are expected to arrive as in-game downloadable content, free of charge. What's more, the original's four-person cooperative multiplayer support is expected to be brought over to the iOS versions, though we don't have details on just how that will work.
See video of the Wiiware original.
As a big fan of the Gaijin's Wiiware titles, I can't wait to get my hands on the iPhone and iPad versions of Bit.Trip Beat and hope that the studio sees success enough with the release to bring the other members of the Bit.Trip lineup over to the App Store. No price or exact release date has been indicated.
[ via Destructoid, GameZebo ]