Hasbro and EA have released the first screenshots for the official iPhone and iPod Touch version of Risk. An official Risk game was first announced back in 2009 and will finally be making its way into the App Store this summer.
The iPhone version offers both AI adversaries or up to 6 multiplayer opponents. Risk-like strategy games have been very popular on the iPhone, so an official version is a welcome addition. Data sheet from the upcoming iPhone version lists the following features:
THE ORIGINAL WAR GAME TRADITION LIVES ON IN AN EXPLOSIVE NEW WAY – The updated look and feel also captures the powerful tradition of the authentic RISK experience. Strategize over the world map, attack with a "roll" of the dice, and fortify your advances with the same rule set as the classic board game.
ENGAGE IN MULTIPLE MODES OF BATTLE – Test your power against strong AI opponents, each featuring unique strategies and even emotional responses. Escalate the action in two Multiplayer modes. Challenge up to 4 of your greatest rivals via WiFi or Bluetooth, or up to 6 with Pass 'n Play.
CRUSH YOUR OPPONENTS AND ACHIEVE HONOR – Attack enemy forces, and transfer and fortify your armies in phase-based warfare. Track the progress and relative strength of opponents with easily accessible in-game statistics. Earn an extensive list of achievements as your armies dominate territory after territory.
STAY ON THE MARCH BACKED BY AN INSPIRING SOUNDTRACK – Stirring sound effects and morale-boosting music enhance the feelings of struggle – and triumph!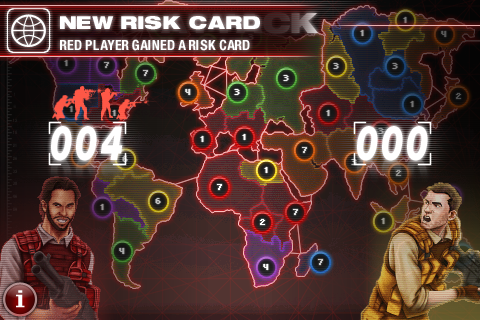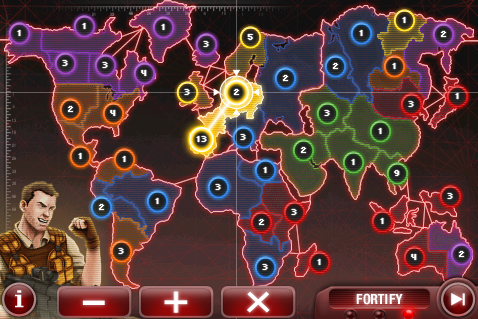 It appears multi-player is limited to local Wi-Fi, Bluetooth or pass-and-play options. The game is due out this summer.