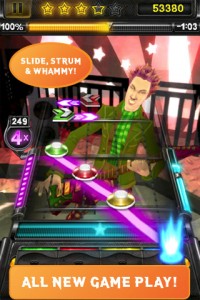 As promised during yesterday's keynote address, Activision released an official version of Guitar Hero for the iPhone and iPod Touch yesterday.
The game costs $2.99 and comes with 6 songs with additional song packs available as in-app purchases. The included songs include:
Queen – We Are The Champions
Rise Against – Savior
The Rolling Stones – Paint It Black
The White Stripes – Seven Nation Army
Weezer – Say It Ain't So
Vampire Weekend – Cousins
Despite the rather short tracklist, impressions have been positive with particular praise for the game's fun notecharts:
Gotta say i'm pretty impressed thus far. Much better than I expected and way deeper, more challenging and fun than Rockband. I really like the variety in the gameplay created by the slides and "strums" – it adds a lot of challenging segments and can be much more interesting than the somewhat stagnant note charts from TTR3/RB.
More feedback and impressions are available in
our discussion forums
.