Earlier this month we posted that Konami announced Pro Evolution Soccer 2010 will be coming to the App Store. Konami has updated their blog on the controls, camera angels and some screenshots that will be featured in PES 2010 for the iPhone.
The first screenshots for Pro Evolution Soccer 2010 for the iPhone and iPod Touch have been revealed and show off the replay feature and in-game layout.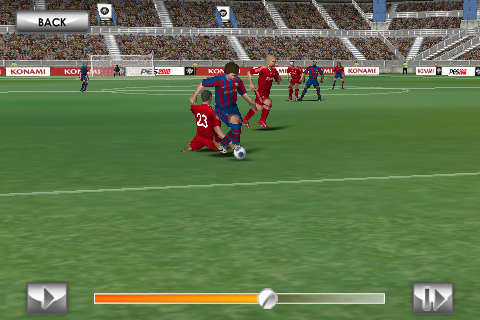 The controls in any game can make or break the user experience, which is why the Konami team is spending a lot of time on the control layout for PES 2010. Of course they have the classic controls with a virtual joystick and virtual buttons on screen, but they have also come up with a new unique iPhone control method called "one-touch". The "one-touch" AI assisted control mode takes advantage of the iPhones capabilities and keeps things simple. No buttons or joysticks on the screen, just the accelerometer and the screen as one giant input zone.
The unique one-touch mode with accelerometer and multi-touch comes with great AI assistance so to ensure the best possible gameplay experience. This is a new way of approaching controls for a football game.
Konami has also been posting in our forums, and answering users' questions about the upcoming game. Of interest, they have said that the licensing of player and team names "will be comparable to the PSP", and that "there are about 100 animations for player and goalkeepers in the game".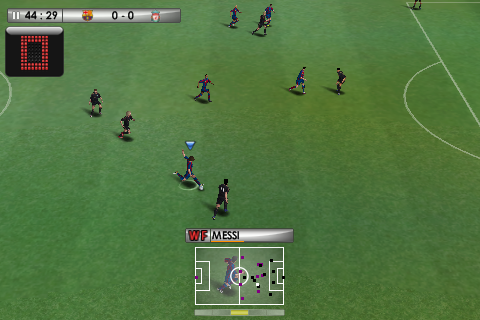 With a new intriguing control method, great visuals, and player licensing,
Pro Evolution Soccer 2010
is shaping up to be promising soccer game for the iPhone. There is no release date set for the game yet, but last week they were about to enter the beta testing, so hopefully we will get to play
PES 2010
sometime this summer.