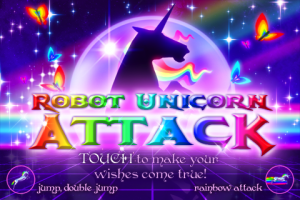 A week ago we reported that not only is Adult Swim's Robot Unicorn Attack coming to the iPhone, but they also planned to have it on the App Store by the 1st of June for $2.99. Well, thanks to the magic that is Apple's approval process, their launch date has slipped to simply "June," but after having played a development build of the game, I can say with some amount of authority that it will be worth the wait.
Robot Unicorn Attack is one of the many Flash games available on the Adult Swim games portal. Since its release, it has been remarkably popular, and for a good reason: Robot Unicorn Attack strikes a perfect balance between Canabalt [$2.99] style survival platforming, unicorns, rainbows, and most importantly, Erasure. As of this writing, the Robot Unicorn Attack flash game has been played over 21 million times.
Gameplay is identical to that of the flash version, but some of the graphical detail has been lost in compressing the original 640×480 flash game down to the 480×320 screen of the iPhone. Regardless, it's just as much fun as the original and I can't wait for the final version of the game to hit the App Store.