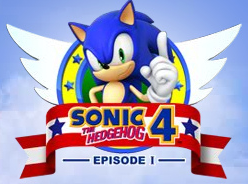 Two big pieces of news just leaked out of the Sega HQ, and it's really a toss up as to which is the more substantial tidbit to gamers. Around these parts, most will likely be much more interested in the fact that Sonic 4 is officially coming to the iPhone, just as we suspected in early February of this year. We don't know much more than that currently, although it's likely safe to assume the game will be controlled like other platformers on the device and hopefully will perform much better than the emulated Sonic games previously released by Sega.
Secondly, the release of Sonic 4 has actually been pushed back by Sega to "ensure that Sonic 4: Episode I is a game worthy of bearing the weight of its name." This marks a substantial change of pace for Sega, as the entire Sonic series, arguably going all the way back to the Dreamcast, have been decidedly mediocre. As a proud console warrior who grew up in the heat of the battle between Sega and Nintendo, nothing makes me more happy than Sega actually giving a Sonic game the attention it badly deserves.
Stay tuned for more details on Sonic 4, and if you're really craving some Sonic action on the iPhone check out Sonic the Hedgehog [$5.99] and/or Sonic the Hedgehog 2 [$5.99]. They're both emulated games, and a little hard to recommend for reasons detailed in our Sonic 2 review, but if you really want a Sonic game on your iPhone, there is no substitute.