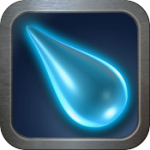 Originally released in late 2008, Pangea Software's Enigmo [$1.99] is about as close as you get to a classic App Store puzzle game, even though it started its life as a Mac and PC game all the way back in 2003. The original Enigmo has won numerous awards including "Best iPhone Game" at Apple's WWDC in 2008 as well as winning the 2008 Austin GDC Independent Games Festival Showcase. In other words, Enigmo for the iPhone is great, and its sequel, Enigmo 2 [$1.99] is just as good if not better. So, it stands to reason that their iPad game, Enigmo Deluxe [$6.99] is also in line with what we've seen in the past from Pangea.
If this is the first you've heard of the Enigmo games, the basic gameplay mechanic involves placing different things in the game world to route liquid from the origin dropper to the jar of the same color. This can mean placing a platform to change the angle the liquid is falling, then placing a bumper to bounce the liquid higher, then placing a sponge to collect the liquid and drip it in to the jar.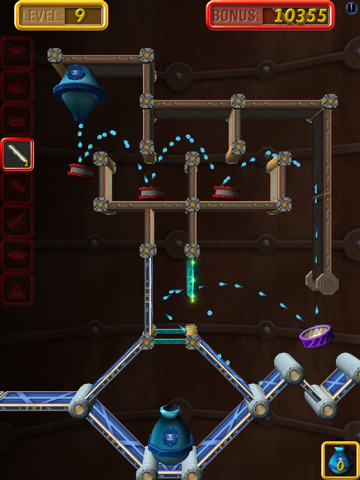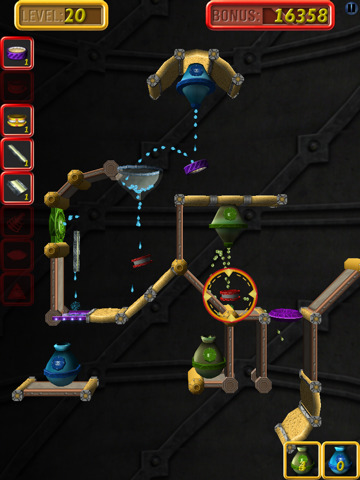 The farther you get in to the game the more and more elaborate these puzzles become, until you eventually just get stuck and find yourself hopelessly pouring over Google search results for hints if you're anything like me. As I already mentioned, I liked the original Enigmo a lot, but levels that required tons of different items to solve almost always involved some frustration with the controls as you're always zooming in and out to accurately grab and maneuver things around the game world.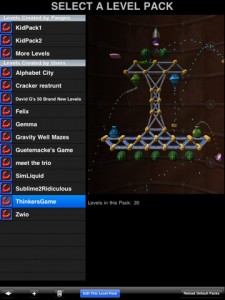 Among the other improvements of the iPad version, having the extra screen real estate to never really need to fiddle with the zoom level too much while always being able to manage the pieces in game has made playing Enigmo a lot less frustrating. Fat-fingering the wrong item and breaking your wacky Rube Goldberg machine of liquid redirection was always a little irritating, and this seems to be a thing of the past on the iPad.
Other improvements include an impressive level editor that allows you to share your creations with any other version of Enigmo via the File Sharing functionality in iTunes. These level packs are even cross-platform, so you can send your levels to a friend who has the PC version or vice versa. A number of third party level packs are already included, and if you're the kind of person who gets in to creating and trading custom created levels, I could see really getting sucked in to Enigmo Deluxe.
If you loved the iPhone version of Enigmo and see yourself getting involved with the custom level packs, Enigmo Deluxe is worth the upgrade. However, if you missed Enigmo the first time around, and enjoy challenging physics puzzles, look no further than Enigmo Deluxe for the iPad.