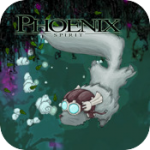 Spearhead Entertainment's Phoenix Spirit [99¢] which we featured in our last upcoming games roundup hit the App Store recently. As mentioned in the previous post, Phoenix Spirit involves playing as a flying squirrel of sorts exploring the forest attempting to discover the cause of the illness that has infected the mother tree.
The entire game is controlled by tilting your iPhone, slowly gliding your squirrel around the screen. On-screen buttons appear that allow you to quickly dive to gain speed, as well as jump off to keep flying when you eventually land. This control mechanic has been a major point of discussion in the Phoenix Spirit thread on our forums. Currently, only tilt control is implemented. I didn't mind the controls as I played through the game, but there seems to be quite a few people who dislike being restricted to tilt input.
Properly controlling your squirrel involves managing your speed through careful dives, and not climbing up too quickly. It isn't immediately apparent that the game revolves around this gliding mechanic, but once you wrap your head around needing to always make sure you have enough speed to maneuver around things get a lot easier.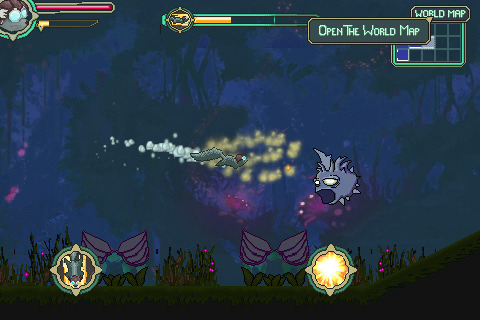 Progressing through the game works exactly like any Castlevania or Metroid game with new powers and abilities that allow you make your way through previously inaccessible areas. A mini-map that is always in the top right corner of the screen keeps you from ever really feeling lost, and three game save slots make it easy to share your device with other people playing the game. (Something I wish more games did.)
Combat is the one portion of the game that feels really weak, as there doesn't seem to be any benefit to fighting things compared to just avoiding them by careful flying. There isn't any kind of experience system, so it almost seems more fun to just evade enemies entirely. Check out the following gameplay trailer to see how the game looks in motion:
It would be nice if Phoenix Spirit had some other control options aside from tilting and I'd love to see the combat system fleshed out a little more so there's reason to fight instead of just flying by everything. However, at the current price of 99¢, it's hard to focus too much on the game's shortcomings because of how much you're actually getting for your dollar. Phoenix Spirit is a cool game of exploration, filled with well drawn pixel art, immersive music, and a neat game concept that any fan of Metroidvania side-scrollers shouldn't miss.