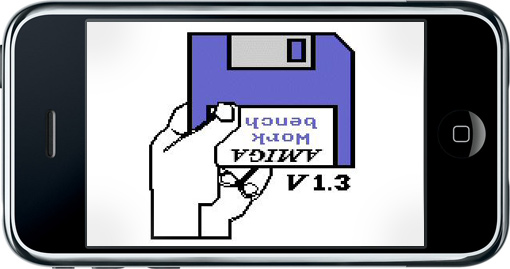 Back in February we reported that, in an interview with Retro Gamer magazine, Stuart Carnie of Manomio (who brought us C64 for iPhone [App Store]) indicated that he was currently in the process of readying an Amiga emulation system for the iPhone to be used to wrap licensed Amiga games for release as individual iPhone game titles in the App Store, the emulation layer being invisible to the user.
Manomio has just released a video demonstrating the system that shows the Amiga games International Karate + and Turrican running quite smoothly in an alpha version of their emulation environment on an iPhone 3GS.
This morning, I spoke at length with Stuart regarding his Amiga emulation system. He indicates that his hand-coded 68000 emulator (the Amiga's CPU) was well worth the effort in terms of performance and that the iPhone 3GS is a perfect platform for playing Amiga games in this fashion. Unfortunately, devices lower in spec — that is, anything that's not an iPhone 3GS, a 3G iPod touch, or an iPad — are not quite up to the task and, as such, Manomio's coming Amiga releases will not support that hardware. Happily for iPad users though, the coming Amiga games will be universal applications that feature high resolution artwork and interfaces appropriate to the iPad's large screen.
Manomio's emulation system is based on the UAE4All emulator tied to Manomio's own ARM-optimized emulated 68000 CPU core. The system emulates a fairly standard Amiga 500 computer.
As for what Amiga games we can expect to see in the App Store, Stuart indicates that International Karate + is a definite, and that he is currently in negotiations with the Turrican IP holder to bring that classic title to the iPhone. Talks are underway with a number of IP holders who licensed their C64 games to Manomio for use with C64 for iPhone, as well.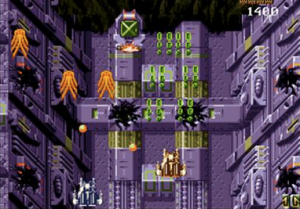 An Amiga game that Arnold and I have both long enjoyed is the scrolling space shooter Battle Squadron. Upon informing Stuart that securing this favorite was an obvious necessity, I was shocked and quite pleased to hear that the IP holders of the title had recently contacted him, seeking to bring that very game to the App Store through their emulation system. The deal is in negotiations and both parties are excited about the prospect.
Aside from the games already mentioned, Manomio has tested various other titles, including Xenon II, Ghosts 'n Goblins and R-Type (not that these are necessarily among the IP they have secured for release in the App Store), all of which "are just perfectly smooth." The first Amiga game from Manomio to hit the App Store will be International Karate +, which should land sometime in the late June timeframe.
And, while getting their Amiga emulation system finished and in the App Store is Manomio's main push right now, it's not their only one. Alongside the Amiga demonstration video, the studio posted a video demonstrating an Atari 2600 console emulator they've been working on for the iPhone. The video shows an iPhone running the Atari 2600 versions of Space Invaders, Berzerk, and Frogger.
Unlike the case of their Amiga emulation system, the Atari 2600 emulator is not a sure thing for App Store release, as Manomio is still rather early in talks with Atari over the needed rights to make such a system happen.
We will bring further details about Manomio's upcoming efforts as we hear them.