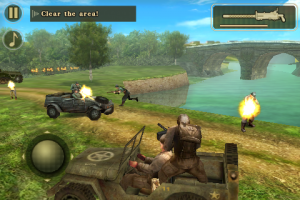 Fans of first person shooters are going to be in for a treat this Monday when the sequel to Brothers In Arms: Hour of Heroes, Brothers in Arms 2: Global Front launches. Last month we took a trip to the Gameloft offices to get an early look at the game:
The game features six different play environments — the Pacific, North Africa, Italy, Normandy, Germany, and Ardennes — across 16 levels, each of which offers 25-30 minutes of playtime (6+ hours total, estimated), basically double that of the iPhone original. While much of the combat is carried out running, dodging, and ducking through the various environs on foot, airplanes, motorcycles, and tanks are also thrown into the mix.
Gameloft just released a pretty cool trailer that shows quite a bit of gameplay:
NOVA is going to be a tough act to follow, but so far Brothers in Arms 2 looks very promising. We'll have a full review following the release of the game.