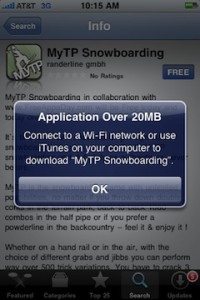 As noted on MacRumors, the over the air (EDGE, 3G) download size limit for the iPhone App Store has been raised from 10MB to 20MB.
Prior to today, apps larger than 10MB required iPhone users to be connected to a Wi-Fi hotspot for direct downloading onto their device. The reason for the limitation is presumably related to agreements with AT&T to avoid excess data usage. Despite evidence to the contrary, developers have long seen staying under the 10MB size limit as a huge benefit, due to the possibility of "on the go" app purchasing. The actual importance of this cutoff size, however, has been up for debate.
The significance of the cut-off size has likely been diminishing over time as the number of iPod Touch (Wi-Fi only) devices has been growing. The tables could turn around again, however, if the 3G-enabled iPad becomes a big seller.
It will be interesting to see if apps that fall in the 10MB-20MB range get a boost in sales due to this change.