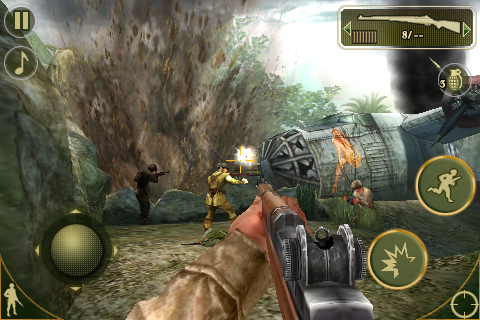 Touch Arcade recently had the opportunity to visit Gameloft's Manhattan offices to preview a number of forthcoming iPhone titles. Among them was the sequel to the studio's late-2008 iPhone release, Brothers In Arms: Hour of Heroes.
Set to make its App Store debut in the next week and a half or so, Brothers In Arms 2 is a title developed specifically for the iPhone that is designed to run smoothly on all iPhone platform devices. Unlike its iPhone predecessor, which featured an over-the-shoulder, third-person perspective, Brothers in Arms 2 delivers a first-person shooter experience.
The game features six different play environments — the Pacific, North Africa, Italy, Normandy, Germany, and Ardennes — across 16 levels, each of which offers 25-30 minutes of playtime (6+ hours total, estimated), basically double that of the iPhone original. While much of the combat is carried out running, dodging, and ducking through the various environs on foot, airplanes, motorcycles, and tanks are also thrown into the mix.

I spent a brief period with the game in the studio, playing through the test build's early stages and found it to be a rather well done, graphically impressive work that ran glass smooth on the 3G iPod touch demo unit. And, while I only put the initial weapons through their paces, the game offers much in the way of munitions. The list includes a bazooka, fixed minigun, iron bar (–whack–), flame thrower, a Thompson, sub machine gun, and grenades.
Coming from Gameloft, a comparison to the studio's highly popular space-based FPS N.O.V.A. [App Store] is inevitable. While the core controls between the two games are are similarly arranged and responsive, Brothers in Arms 2 definitely has more of a duck-and-cover mechanic to it than N.O.V.A., which feels a bit more "brute force" / barrel through the enemy. And, while both are quite visually impressive, due to the nature of the environments, Brothers in Arms 2 probably gets to strut its stuff a bit more, as far as laying down distant polygons in vast surroundings.
If the campaign gameplay grows tiresome, there's a local WiFi multiplayer option available that features an in-game text chat system (to help dole out the smack). The option to override the in-game audio track with music from your iTunes library has been provided, as well.