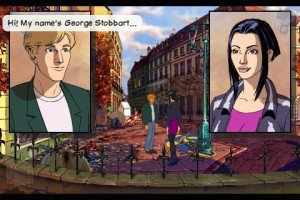 This weekend, Revolution Software released an iPhone version of Broken Sword: The Director's Cut. The game franchise dates back to 1996 but the most recent release is a remake of the original title and was released on the Nintendo DS and Wii in 2009.
Broken Sword: The Director's Cut is a loving update to the adventure which introduced George Stobbard, Nico Collard and the conspiracy of the Knights Templar in an epic narrative spanning the globe. A massive smash on its original release, the Director's Cut includes a significant amount of content not featured in the home computer version, adding approximately 20 per cent to the total play time.
The game is a traditional point and click adventure game but has been updated to adopt the wonderful iPhone interface also found in Beneath the Steel Sky. The iPhone version also contains new cut scenes and animations.
The game has been getting positive reactions in our forums, and we've been really enjoying it. Our full review will follow shortly.
App Store Link: Broken Sword: Director's Cut, $6.99