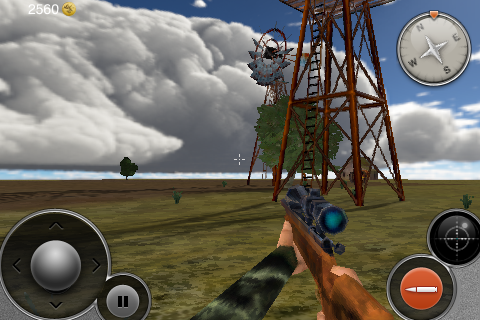 One of the most notable iPhone games in the early days of the App Store was Ethan Nicholas' iShoot [App Store], a turn-based artillery game reminiscent of Scorched Earth. In January of last year iShoot took the #1 spot in the list of top 100 paid apps (and anything that could dethrone iFart Mobile has to be big news), enabling Nicholas to kiss his day job goodbye and focus entirely upon iPhone development. An easy decision, we're guessing; Nicholas reportedly made over $800,000 on iShoot in its first five months.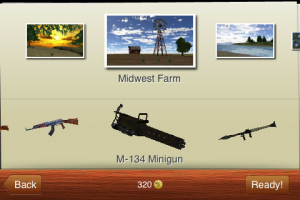 But what was next for this successful first-time iPhone author?  Time passed and we began to wonder just what Nicholas had in store for iPhone gamers, when word came in October that he would be bringing an outdoor hunting game made in partnership with four-time Olympic medalist, Kim Rhode. Yesterday, Kim Rhode's Outdoor Shooting [link] arrived in the App Store.
Kim Rhode's Outdoor Shooting challenges you to go on the hunt for deer, bears, rabbits, and wild turkeys in a 3D, first-person sports shooter set among a variety of outdoor locales (unlocked as you make progress). And it's not just about pistols and hunting rifles; your arsenal includes AK-47s and even a rocket launcher. And, while some of our readers won't have a taste for a virtual hunting title (with bunnies), the genre is a popular one on other systems and similar iPhone titles, John Moffett's iHunt [$0.99] and Glu's Deer Hunter 3D [$2.99], have been doing quite well, of late.
See our brief demo video for a look at the game (note that virtual animals are shot and killed in this footage — even bunnies).

[ Full HD version | Low Bandwidth version ]
App Store Link: Kim Rhode's Outdoor Shooting, $2.99