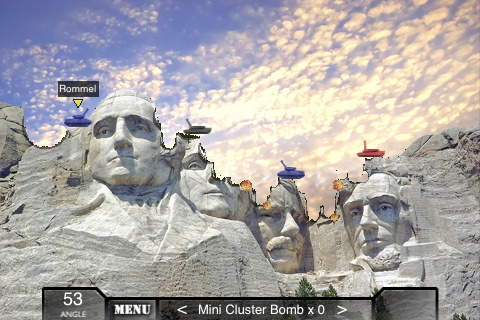 Ethan Nicholas'
iShoot
[
App Store, $2.99
] has taken the #1 spot in the top 100 paid apps, overtaking the infamous
iFart Mobile
. What's surprising about the ascent to #1 is that
iShoot
is not even a new app, and even costs a whopping $2.99.
iShoot originally came out on October 19th at $4.99 and was met with some mixed reviews from our forum members. In December, the developer delivered a 1.1 version update and $2 price drop to $2.99. Not much happened in terms of App Store rankings, though, until the release of iShoot Lite [App Store, Free]. The Lite version of the app has since shot up the Free charts over the past 6 days and has been closely followed by the Paid app.
iShoot is a turn based artillery game that has been compared to Scorched Earth. The game allows you to set angle and power of your projectiles in order to destroy the enemy tanks. The Lite version limits you to only 6 (of 25) weapons and offers no tank driving.
The 1.1 version seemed to address many of the concerns of the original version, and the Lite version gives you a good taste of the game.
App Store Links: iShoot, $2.99, iShoot Lite, Free