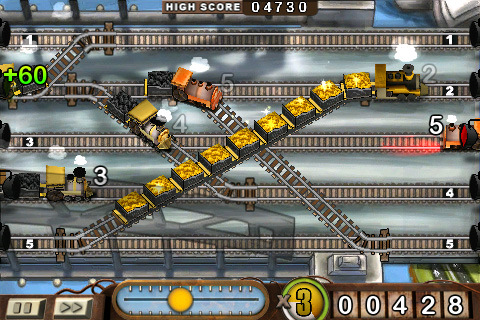 iPhone developer The Voxel Agents has recently released Train Conductor [App Store], a pick-up chaos management game that should get the attention of Flight Control and Harbor Master fans.
Train Conductor, like the other aforementioned titles, involves safely getting a series of vehicles to their designated destination. In this game, the vehicles in question are trains and, as such, it's not a matter of drawing an arbitrary path to said destination, but routing the trains from track to proper track.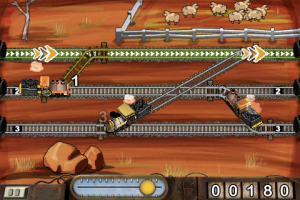 Each screen is filled with up to five, numbered, parallel train tracks. After a brief warning signal, numbered trains enter the screen along these track — in both directions — and the task at hand is to draw connecting tracks to get each train to its designated track. A tap on any train stops it on its track, and a fast-forward control allows for moving the game along when all on-screen trains are sorted. It sounds like a more simple take on the formula than that of the better known time management games in the App Store — and in a way, it is — but as the developer's video illustrates, things can get hectic pretty fast.
In all, there are eight progressively harder levels across four Australian locales. Certain levels feature a few twists, such as especially long and fast Gold Rush Trains, Demon Trains, and even Ghost Trains in the Graveyard Shift mode where spectral trains don't collide and action ramps up fast. Plus+ network integration tracks global awards and leaderboards.
See the developer's demonstration video to feel the action.
iPhone gamers on the go will find Train Conductor to be a game particularly well-suited to quick, pick-up play sessions. It's right into the action and in moments you're in the heat of the connecting track shuffle. In assessing the game for this writeup, I found it hard to put down and expect to spend some real just-for-fun time with Train Conductor over the next few months.
App Store Link: Train Conductor, $1.99 (limited time)