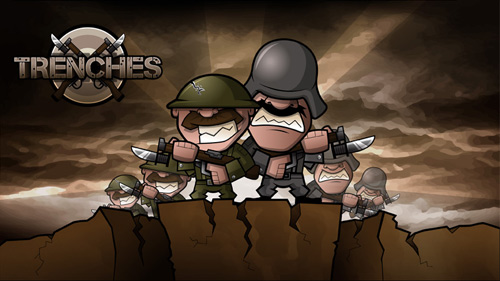 iPhone gamers fond of a little time on the virtual battlefield may have something to look forward to in Thunder Game Works' upcoming WWI-based Trenches for the iPhone and iPod touch. Thunder Game Works has been teasing readers about the game since mid-November hoping to build up interest in their first title. As it turns out, the developers have revealed that Trenches is 2D, side-view attrition warfare game that involves resource management and strategic deployment of troops, utilizing touch-based line-drawing elements for movement of troops across the battlefield.
The game features a campaign mode which takes you through the course of the Great War as Thunder Game Works has laid it out, as well as a skirmish mode that allows the player to choose his or her own setup for a quick game, including specifying troops, bombardment abilities, and even the amount of trenches and barbwire on the battlefield. There's also a hidden sub-game that can be unlocked by the savvy.
In order to keep the game's replay value high, the developers have implemented an "adaptive artificial intelligence" system that monitors players around the world and learns from their tactics, resulting in an evolving enemy AI that results in never playing the same game twice. The game's music system varies the in-game music based upon how well — or poorly — you're doing on the battlefield, to deepen the atmosphere of the action. OpenFeint integration tracks global high scores as well as achievements.
Trenches was developed by the same team that created the popular tower defense title Tap Defense [App Store]. It makes extensive use of original and professional voice acting for both the British and German troops and features art by Michael Heald of FullyIllustrated.
See the developers' trailer video for a look at the game in action.
See the lengthy Trenches post in our forums to see how readers like what they've seen. The game has recently been submitted to Apple and is set to make its App Store debut next month, January 2010.