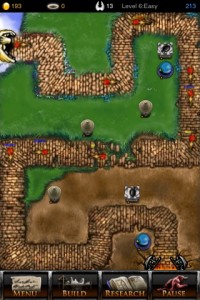 A new free (ad supported) Tower Defense game appeared in the App Store tonight called TapDefense [App Store].
The Tower Defense genre has received a lot of attention on the iPhone with the massive success of Fieldrunners. These games are strategy games in which you build defense towers of varying ability to combat swarm after swarm of enemy attackers. Each tower costs a certain number of points and points are earned as you defeat more enemies.
TapDefense is an ambitious attempt with some interesting features. The game provides set paths for the enemies to traverse. Towers can be placed anywhere along these paths. An interesting feature allows you to "research" new towers in order to make them available for purchase.
All in all, it seems like a worthy (and free) effort, though in my brief play of it, I found the gameplay fell short of Fieldrunners. There's some ongoing debate about the best tower defense games, and some argue that Fieldrunners may appeal more to tower defense novices. Either way, if you have any interest in the genre, TapDefense is certainly worth a try.
App Store Link: TapDefense, Free