iPhone gamers with a penchant for spending some virtual time on the wing, rejoice. Glu Mobile's highly anticipated Glyder 2 [link] has hit the App Store.
We first saw the original Glyder earlier this year at the Game Developers Conference in San Francisco shortly before it made its App Store debut. We were immediately impressed by the game's casual flying dynamic, unlike anything in the App Store at the time. Many, including all of us here at Touch Arcade, consider the game to be the iPhone's answer to Nintendo's excellent Pilotwings. The game garnered quite a following, and looking at our forums, it seems the sequel is destined to do the same.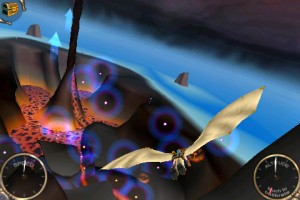 In Glyder 2, Eryn, who was ever so unfortunately thrown through a dimensional rift in the original Glyder, has again found herself in a foreign dimension and needs your help in unlocking the mysteries of her new environment in order to make her way back home. Poor, poor Eryn. But, then, her misfortune is your gain as an iPhone gamer.
Glyder 2, weighing in at four times the filesize of the original, brings a great deal of new content to thrill those who found themselves addicted to the original:
Six new worlds to explore
Character customizations (new wings and new outfits can be acquired and worn)
18 new mini-games and puzzles
A seventh mini-world that involves flying faster and faster through an obstacle course across a tiny atoll
24 goals to unlock
Over 450 crystals to collect
Over 40 achievements to unlock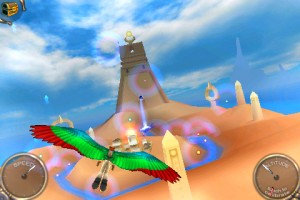 In all, it's a lot to play with. All six of the game's core worlds are generally larger and more detailed than those of the original game yet, as with the original, the framerate is solid and the animation silky smooth.
Gameplay in this sequel is pretty much the same as in the original Glyder. You, the player, control Eryn who is equipped with a da Vinci-esque set of wings that allow for gliding flight across various worlds. The goal is to collect a large number of floating crystals of various types in order to open a portal to return Eryn home. The occasional pockets of thermals (corridors of updraft air) and speed boost power-ups help keep the action at high altitude while an array of mini-missions keep the gameplay nicely varied. Flight control is handled via accelerometer, with a re-calibration feature on the main game screen as an addition in this sequel.
Like the original, Glyder 2 is a sprawling game. All game worlds are immediately accessible by simply flying out of one, across a great expanse of sea, and into another, without break or load time. And once a new world has been entered, it can then be chosen as a starting point from the game's world map.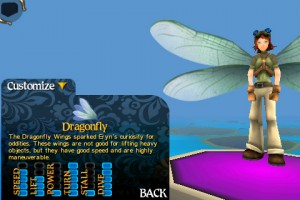 Glyder 2 is best described as "more of a good thing," as opposed to a dramatically new game. All that was right with the original is right with the sequel, but with the addition of a number of nice touches. Flight characteristics can be altered by equipping various new sets of wings that can be collected throughout the game's various worlds. Different looking outfits can also be collected, to add a bit of variation to Eryn's appearance.
Unfortunately, another element of the original that is the same in this sequel is the rather repetitive musical track. Thankfully however, this time around you can choose music from your iTunes library to listen to during gameplay. A welcome addition, indeed.
See our gameplay video for a look at the action across various worlds.

[ Full HD version | Low Bandwidth version ]
Glyder 2 delivers a fanciful, aerial questing experience to your iPhone or iPod touch. It, like its forerunner, is a highly enjoyable game that's challenging, and at the same time, relaxing. Yet, contrary to the case of many games' sequels scenarios, the existence of Glyder 2 does not invalidate the original as a viable and enjoyable purchase. Yes, there's more to see here, but really Glu brought us "most of the way there" with Glyder, and I think that fans of the genre should find enjoyment with both titles.
App Store Link: Glyder 2, $3.99