At GDC, Touch Arcade had the opportunity to sit down with Yichel Chan and Kathy de Leon of mobile development house Glu, makers of Bonsai Blast [App Store], to discuss a number of the company's forthcoming iPhone game titles.
Glu's upcoming games offer a very diverse collection of genres so there will likely be something of interest for everyone.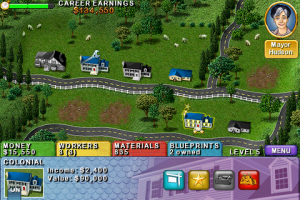 Build-A-Lot
Originally a PC game, Build-A-Lot is a light simulation in which the player buys and sells land, develops blueprints, builds and expands houses, and creates a functioning community that–hopefully–makes the player a wealthy tycoon.
The game features a career mode, in which certain set goals per level must be met to move forward (though catastrophies and such can happen mid-level that must be dealt with), and a story mode in which the only goal is to make a certain amount of money.  The iPhone version of Build-A-Lot is an improvement over the PC original, adding enhanced graphics and various new gameplay elements.
Build-A-Lot will be priced at $4.99.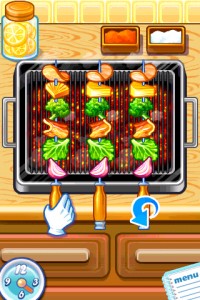 Cooking Star
Cooking Star is a food management game that is a collection of eight different mini-games, each one payable across five different levels of difficulty. 
Some examples are Tofu, where the player must properly slice a cube of tofu being dropped into a cooking pot into tiny pieces using finger gestures and Kabob, which involves cooking (and not burning) a series of kabobs on a grill by tapping to select, flipping (the iPhone) to rotate, and shaking to add salt.
Additional mini-games will be made available in future updates.
Wacky Worlds Mini Golf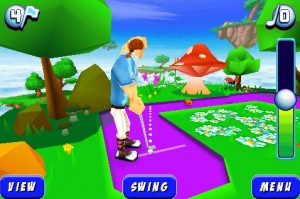 Expected to debut in July, Wacky Worlds Mini Golf is a zany golf game set in a most bizarre world.
While lining up shots and putting true are the name of the game, things are made interesting by moles, gophers, ladybugs, and the like wandering the course and popping out of holes. This colorful title features non-traditional controls (line up a shot, set the desired swing strength, move the camera to achieve a preferred vantage, and tap to swing) and four (bizarre) worlds, each featuring 10 holes.
No price has been determined for Mini Golf.
Forthcoming Cops and Robbers is a (foot) racing / acrobatic game in which you and your roommate are strapped for cash and can't pay the rent.  The solution?  Turning to a life of crime.
The game involves running through a series of city levels that have a Crash Bandicoot feel and involve parkour-like moves while collecting diamonds to pay the landlord. 
The game features a very interesting twist on the "ghost" re-play mechanic.  Once you've completed a level as one of the robbers, you can then replay it as a cop chasing your robber ghost. So you must best your previous time in order to "catch" yourself.  After that, you're back to a robber being chased your cop ghost.  A very clever mechanic that ensures replayability.
Cops and Robbers will retail for $4.99.
This video shows a bit of the gameplay, but due to the loud ambient noise we simply muted the audio. The final game, of course, has appropriate sound effects:

[ Full HD version | Low Bandwidth version ]
Glyder
Glyder, set for an early April release, is a flying exploration game in which the player is wearing a set of wings and most fly freely about various environments collecting floating  gems.  Achievements–50 in all–are unlocked for performing various feats such as visiting every area of a given world, achieving maximum possible velocity in a power-dive, and taking mini-trips.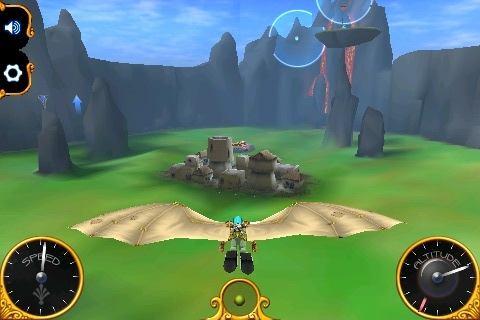 There are no enemies and there's no way to die in Glyder.  It's just about the gliding.
Glyder will be priced at $1.99.
This video shows a bit of the gameplay, but due to the loud ambient noise we simply muted the audio. The final game, of course, has appropriate sound effects:

[ Full HD version | Low Bandwidth version ]