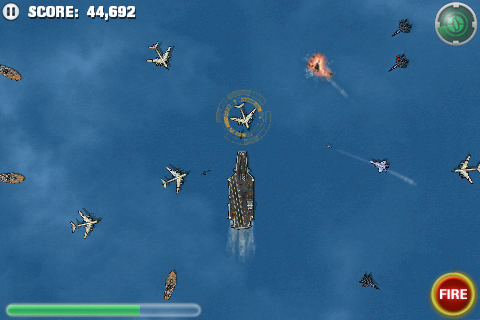 2XL Games has built a solid reputation in the iPhone game space as a maker of quality offroad racing games with their 2XL Supercross and more recent 2XL ATV Offroad. And so it was with some surprise that we took a look at their most recent App Store release, 2XL Fleet Defense [link]. An offroad racer, this is not — but so much more hangs in the balance…
Caught in the middle of an international crisis, you are the naval aviator charged with the defense of your carrier and the lives that depend on it from the enemy's relentless attack. Fortunately, you are in control of the world's most advanced jet fighter. The F-35 is a modern marvel, centralizing all information and controls at your command.

With the ominous threat of a looming nuclear attack, millions of lives hang in the balance. Can you navigate the perilous political waters to save the lives of your crew while preventing a nuclear war? The entire world is watching your every move…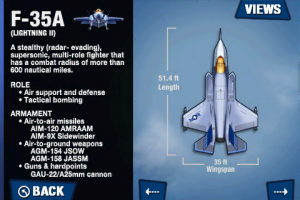 (And that's just a small part of the gripping backstory.)  As indicated, Fleet Defense puts you in control of the carrier-based F-35 in a bid to defend your ship and crew. It works like this: You're presented with a 2D, top-down ocean playfield with a carrier at the center and enemy ships and aircraft encroaching from all directions. A pop-up radar aids in choosing which crafts to eliminate first. Spending any time with the game reveals it to have a feel similar to Flight Control and Harbor Master, in that dealing with oncoming craft in exactly the proper sequence is key. But, rather than drawing lines to plot the course of inbound boats and planes, you scroll about the playfield and tap on an enemy craft to target, which sends your F-35 on an intercept course. When your fighter gets close enough, it fires a missile and destroys the craft, allowing you to select the next target.
Your carrier base can take a certain amount of damage from enemy vessels before being completely destroyed, and it can heal itself while your F-35 is on deck and it's not under attack (tap the carrier to land). The carrier itself is not without defenses; it is equipped with a highly powerful defense system known as the Phalanx, which is basically a volley of ordnance in all directions, but it's very slow to charge and, as such, must be used only at critical moments.
See our brief gameplay video for a look at the action.

[ Full HD version | Low Bandwidth version ]
The game includes an achievement system as well as online leaderboards which add to your skill incentive. Fans of either of the aforementioned craft management games should find Fleet Defense to be a challenging (and enjoyably frustrating) twist on the formula. Fun isn't all about offroad racing, after all.
App Store Link: 2XL Fleet Defense, $1.99