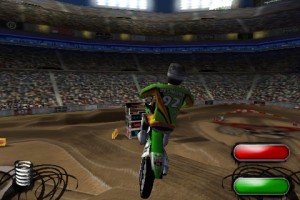 2XL Games are no strangers to the extreme racing genre. They've been at it for over 10 years, starting with the Motocross Madness series on the PC, then graduating to releasing six Xbox racing games based on all kinds of off-road vehicles (and watercraft) as well as BAJA: Edge of Control for the Xbox 360 and Playstation 3.
They've taken their decade of experience combined with the track design of Motocross champion Stephane Roncada to create the most graphically impressive racing game we've seen yet on the iPhone, 2XL Supercross [App Store].
2XL Supercross starts with three racing tracks unlocked, and an additional nine available that can be opened by winning races. Each of the tracks can be played in thee different modes: Time Trials, Practice, and Racing — each with three difficulty levels. There are a variety of both tilt and touch control methods for both right and left handed players. I preferred the default tilt controls, but the virtual analog stick available in the touch control methods also performed excellently.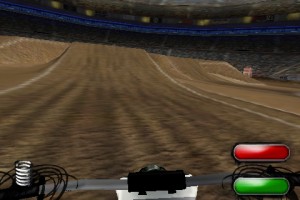 In addition to customizing controls, the camera can be positioned in four locations, near third person, far third person, and first person both with and without handlebars. (I found the tilt controls combined with the first person handlebars view to be amazingly immersive for an iPhone game.)
While the controls are great and the track design is excellent, both of these things take a back seat when it comes to how remarkable the graphics of this game are. Without exception, 2XL Supercross is the most amazing looking game I've seen on my iPhone. The tracks, bikes, and riders are beautifully rendered complete with dynamic lighting and shadows. Screenshots and YouTube videos really don't do 2XL Supercross justice, and until you've got it in the palm of your hands you really just can't appreciate what 2XL Games has managed to squeeze out of the iPhone.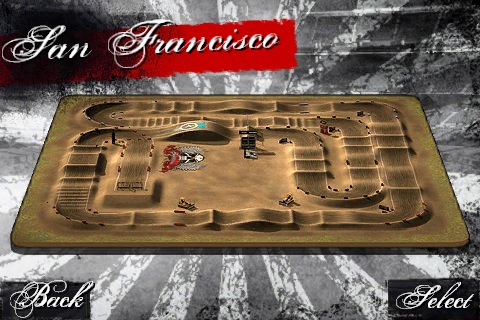 Another great part about 2XL Supercross is the ridiculous level of detail in the tracks. Riding your bike over the various jumps and bumps in each of the tracks combined with the sensation of speed from the game's high frame rate is an amazing experience, and it really makes other racing games look boring in comparison.
And if you're looking for a really cool racing game to play for a few minutes at a time while you wait somewhere, 2XL Supercross is what you need. But, if you're looking to sit down and have a Motocross marathon play session, you might find yourself disappointed by the lack of a career mode. While you can unlock additional 9 race tracks, you are still limited to shooting for the best time within individual races. I would have loved to have seen the ability to finish races, earn money, and upgrade your bike through a series of races.
Another potential issue that has come to light on our forums is the game scales differently depending on the device you're playing on. Second-generation iPod Touch users will play against four AI racers while iPhone users will only race against two. According to the developer, this is to preserve the high frame rates they expect in a fast-paced racing game between the hardware differences of the devices. While I don't find myself getting that worked up over only racing against two other opponents on my iPhone 3G, I can understand how some people might be upset that they're getting a different experience from the game.

[ Full HD version | Low Bandwidth version ]
All that said, I find it hard to say whether or not I recommend picking up 2XL Supercross.
If you're a fan of motocross, or racing games in general, you probably own it already (and rightfully so). If you're looking for something to knock your socks off graphically or to show your iPhone off to other people and you don't necessarily care about replay value, 2XL Supercross is still the game to get.
On the other hand, if you're looking for a racing game to sit down and really sink your teeth into, you may find yourself a little disappointed by the lack of career mode and you should consider waiting to see what comes with future updates.
Game Details

Name:

2XL Supercross (v1.0)

Price:

$7.99 [Buy]

Developer:

2XL Games, Inc.

Size:

67.2 MB

Device:

Tested on iPhone 3G
2XL Supercross is one the most visually impressive 3D racing games available on the iPhone and iPod Touch. The high frame rate, detailed graphics and intricate level design make for an incredibly immersive experience. A lack of any career mode, however, limits a longer term sense of accomplishment and reduces the replay value of the game.