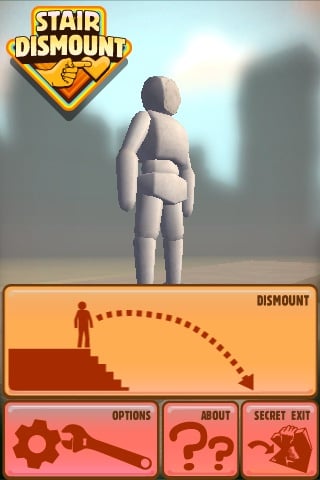 Secret Exit's latest iPhone game has finally arrived. Stair Dismount was released tonight and represents their 3rd iPhone title after Zen Bound and SPIN.
Stair Dismount Touch is a ragdoll physics game in which your job is to push a crash test dummy down a series of stairwells in an attempt to maximize your score by maximizing the damage on the dummy.
The game itself is rather simple though wrapped in a nicely polished and visually beautiful package. You are given 6 different nicely rendered 3D stair cases as starting points from which to dismount your dummy. You get one hit anywhere on the body, so you have to choose your spot wisely. Meanwhile, the power of the push is determined by an oscillating power meter that you need to press at the right moment.
Once set in motion, you can change your perspective by swiping/pinch-zooming on the screen as the dummy crashes his way to the bottom. Your final score is basically a sum of all the damage inflicted. The game incorporates Facebook and Photo album integration for both adding someone's photo to the dummy as well as sharing mid-action photos.
The first version of the game lacks an online leaderboard so you are left trying to beat your previous high scores — a task that is easy to get sucked into as I did find myself mindlessly replaying levels over and over.
Stair Dismount, however, borders on "toy" rather than "game" in that most of the enjoyment comes from watching the dummy get damage inflicted on it as it tumbles down the stairs. Your influence on the outcome also feels limited as you only have a few choices to make (location of push and power). For example, it would be nice if they had also given you the ability of adjusting the starting placement of the dummy.
So, with this in mind, while Stair Dismount can be an enjoyable "experience", it's not really what you'd consider a typical game.
App Store Link: Stair Dismount, $2.99