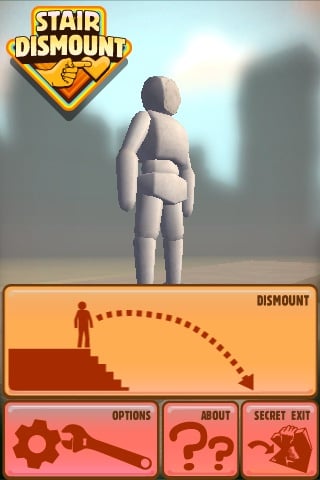 Secret Exit has been pretty quiet over the past few months. After the release of their critically acclaimed Zen Bound 3D puzzler, we'd only heard a single announcement of an upcoming game called Stair Dismount Touch. But after months of silence, we wondered if there might have been some truth to their comical denials.
Fortunately, Secret Exit's Jani Kahrama recently contacted us with a fresh build of their game to preview and it should be coming to the App Store soon.
Stair Dismount Touch is a ragdoll physics game in which your job is to push a crash test dummy down a series of stairwells in an attempt to maximize your score by maximizing the damage on the dummy. If it sounds familiar, then that might be because there's a similar game called Max Injury that has been topping the App Store charts in the recent weeks. Stair Dismount, however, seems to be the originator of the genre (if it really is a genre) and was one of the first games ever to even use ragdoll physics. It was debuted at Assembly 2002. That original game later spawned Truck Dismount and plans for Stair Dismount 2. Stair Dismount Touch actually seems to represent much of what was long planned in Stair Dismount 2 sequel.
Kahrama explains that they are particularly proud of their ragdoll simulator and why he feels it stands above the competition:
In the competing games we've seen, all the ragdolls tend to be like limp noodles with no proper friction, mass or limits of movement – our ragdoll is much more realistic. This helps in the overall visualization of the impacts, again we feel that when Mr Dismount hits something, there is a more tactile element and a realism that other games haven't quite achieved. Partially this is also due to the sound effects, which we custom made by abusing vegetables 😉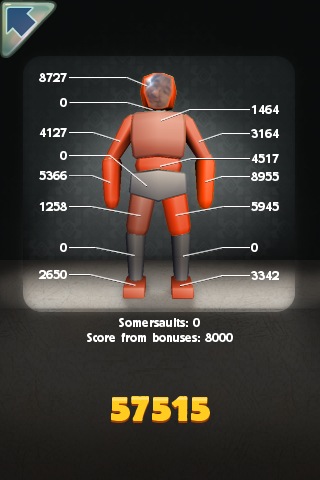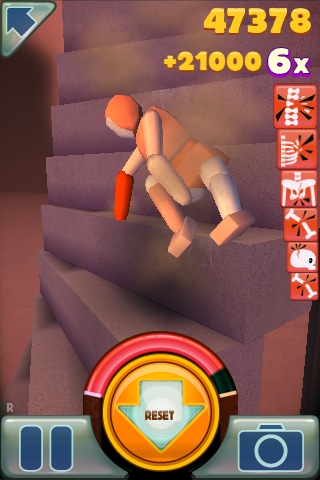 The game itself is rather simple though wrapped in a nicely polished and visually beautiful package. You are given 6 different nicely rendered 3D stair cases as starting points from which to dismount your dummy. You get one hit anywhere on the body, so you have to choose your spot wisely. Meanwhile, the power of the push is determined by an oscillating power meter that you need to press at the right moment.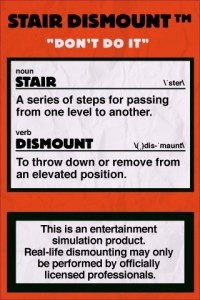 Once set in motion, you can change your perspective by swiping/pinch-zooming on the screen as the dummy crashes his way to the bottom. Your final score is basically a sum of all the damage inflicted. The game incorporates Facebook and Photo album integration for both adding someone's photo to the dummy as well as sharing mid-action photos.
Honestly, if you'd asked me a month ago about the mass appeal of this sort of game, I probably would have thought it was limited. The huge success of Max Injury, however, would have proven me wrong. People seem to love their ragdoll simulators, and it's great to see Secret Exit back in action. Secret Exit hopes to have the game in the App Store by the holidays. They've set up an amusing promotional website at StairDismount.com where you can see more details and screenshots.