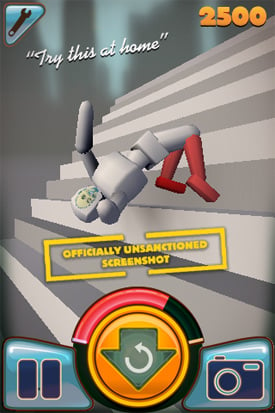 Jani Kahrama of Secret Exit, creators of the highly acclaimed 3D puzzler Zen Bound, today made a post in our forums entitled "Stair Dismount Touch – The Official Thread of Denial and Misinformation," in which he clearly indicates that an adaptation of the company's original Mac/PC freeware title Stair Dismount will not soon be arriving in the App Store for the iPhone and iPod touch.
Having heard rumors to the contrary, we contacted Jani and pressed him on the matter.  He was quick to inform us that any rumors of such a title in development at the Secret Exit labs are flat-out lies and that any screenshots that might appear on the net would certainly not represent a hypothetical product.
He did not, then, provide us with the following release.
Helsinki, March 9th, 2009 – Following the bipolar success of Zen Bound (the game in which nothing explodes), Secret Exit Headquarters has issued a formal statement denying the circulating rumors of a new Stair Dismount game being in development for iPhone and iPod touch.

"Dismounting is morally reprehensible." says Jani Kahrama, Mismanager of Studio, "It would be irresponsible of us (before securing plausible deniability) to announce an entertainment product in which abstract visuals together with realistic physics-simulated behavior and disturbingly accurate sound effects enable people of moral stability to amuse themselves with explorations into the effects of directed force."

Therefore, effective today, Secret Exit denies all facts about the ongoing development of such a game, Stair Dismount Touch. It is not in a playable shape, in late stages of development or available in the near future at a recession-friendly price point.

Features such as custom face support or a screen capture button for purpose of friendly email attachments are pure speculation and therefore vehemently denied.

Secret Exit is an independent game studio not in the business of developing games for iPhone and iPod touch. Secret Exit believes in the awesome power of press releases.
A release date has been determined (think about that one…), and it will not be released at an affordable price-point.  Hoping that an iPhone version (were it to exist) would add the ability to customize the face on the game's ragdoll would be folly, and anticipating a screengrab feature that captures the dismount-moment to share with friends would be a fool's errand.
Readers can rest assured that, were a game called Stair Dismount Touch to, in fact, appear in the App Store, we would ignore it completely.