Craneballs Studios, who brought us the unique iPhone shooter Blimp – The Flying Adventures, has just released 33rd Division [App Store], a combat-themed tactical line-draw game in the ilk of Flight Control.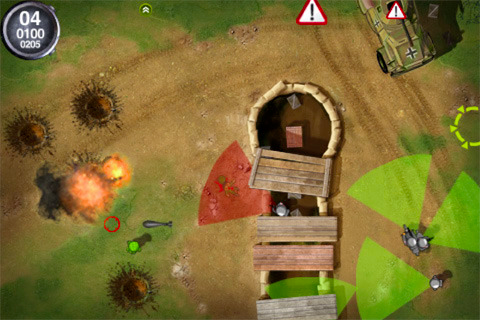 Set in World War II, 33rd Division offers gameplay across four different European battlefields.  The goal is to guide soldiers, medics and sergeants entering the battlefield to each of their designated destinations without being seen (shot and killed).  This is done by drawing a course across the battlefield (Flight Control style) in and among obstacles and roving patrols.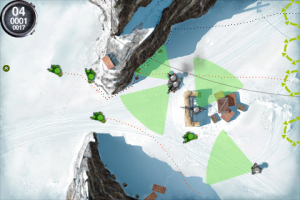 Sounds just like all the other line-draw games, right?  Well, 33rd Division has some interesting variations up its sleeve.  The aforementioned roving patrols have a limited field of vision, indicated by a highlighted sight cone that moves as they turn about the battlefield.  As long as you stay out of their sight area, you're fine, but enter that cone and, well, let's just call it the cone of death.  What's more, if you're trapped and about to be seen, you can lie down, rendering you invisible…unless the patrols walk right up to you, in which case they render you full of lead.
The game offers two playmodes, Life, in which it's game over after you lose all your lives, and Time, where it's an all out race against the clock. Helping you out along the way are eight different power-ups that can be collected on the battlefield, including invincibility, bonus life, extra time, double speed, and frozen enemies. The WWII-era menu music, complete with crackles and pops, adds nicely to the effect, as does the ambient battlefield sound during gameplay.  OpenFeint leaderboards provide incentive to hone your skill.

[ Full HD version | Low Bandwidth version ]
There are a number of line-draw games of this general sort in the App Store.  I do have my favorites.  And as it turns out, 33rd Division is among them.  The temptation to shortcut your way across the battlefield, cutting dangerously close to the patrols and dropping to the ground at the right moment, adds a great sense of danger and exhilaration to the gameplay.  But, be careful, you don't want to get stepped on!
App Store Link: 33rd Division, $0.99