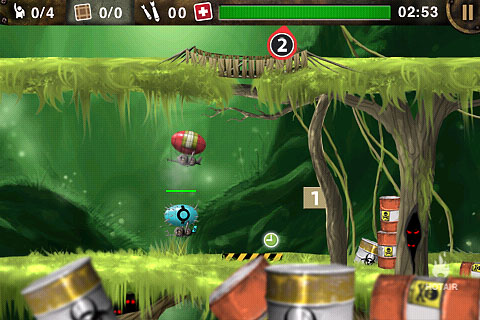 Craneball Studios has released screenshots and video from their upcoming "premium" iPhone title called Blimp – The Flying Adventures.
You are a blimp pilot. A war veteran, who wants to live the rest of your life in quiet and peace. Working your day job on a trading planet, everything seems to be ok. Suddenly the planet is assaulted by an evil empire. Your blimp is upgraded with bombs and you are going to save the planet…
The game revolves around piloting a blimp through 20 "action packed" levels. Your tasks begin with simple transport but later escalate to saving friends, protecting other blimps, guerrilla attacks and more.

Blimp controls are left/right tilt for direction and touching on the screen to go upward. Other features listed by the developer includes:
high quality particle effects (fires, steams, explosions, radiations etc.)
20 action packed levels with interesting plots
4 completely different locations (dark forest, mines, snow mountains, red rocks)
deceitful enemies incl. tanks, gun nests, blimps, bunkers
your blimp is upgraded throught the campaign
global score
created exclusively for iPhone/iPod touch with accelerometer controls in mind
The developer's gameplay video looks quite nice:

The game is due for release in May/June.