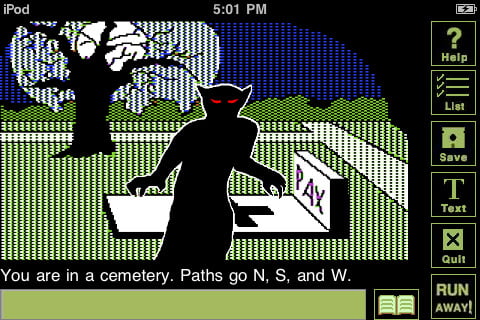 RetroVenture has released a port of the old 1982 Apple II game Transylvania. Originally developer by Antonio Antiochia, RetroVenture has collaborated with the original author to bring this classic game to the iPhone.
In Fall 2009, Roe Mobile Development will release Transylvania for the iPhone. Transylvania is an adventure game that was originally released for the Apple ][ in 1982. Back then it was quite successful and spawned two sequels (Crimson Crown and Vanquish the Night: Return to Transylvania). The iPhone version is a joint work between Kenneth Roe and Antonio Antiochia who is the original author. The iPhone version will add a new touch interface and sounds.
If you ever played the original version, here's your chance to get it again for free. Even if you miss the Halloween sale, the game will be available for only $0.99.
App Store Link: Transylvania Adventure, Free (Halloween)