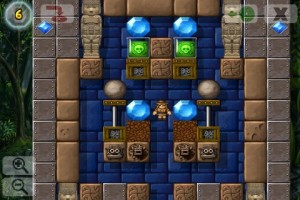 Rake In Grass, the developers behind Archibald's Adventure and Westbang, recently released a new level-based puzzler called Crystal Cave Classic for the iPhone.
The game is reminiscent of Boulder Dash, requiring you to dig through dirt to dislodge boulders while collecting all the crystals. The game, however, also introduces a number of additional elements that take it beyond Boulder Dash in many ways. Aside from the usual boulders, enemies, and crystals, there are breakable walls, encased crystals, acid, glass boxes, flip tiles and more.
Crystal Cave Classic delivers over 170 levels of play with a number of control options. The default controls, which I felt worked well, are a simple virtual d-pad. The game also allows you to also use swipe controls or tapping on the top/bottom/left/right areas of the screens for movement. In practice, however, I had some issues with accidental movements using the swipe controls, so stuck with the d-pad.
Here's the game in action:
The initial 15 levels serve as an in-game tutorial introducing you to the various elements in the game. The game offers challenging play even with amongst some of the early levels. Like many similar puzzle games, such as Bobby Carrot, there is a bit of trial and error involved in figuring out how the pieces fit together. Levels are skippable, and if you are one to easily get frustrated with challenges, the developer has gone to the trouble of compiling video solutions to all the levels of the game.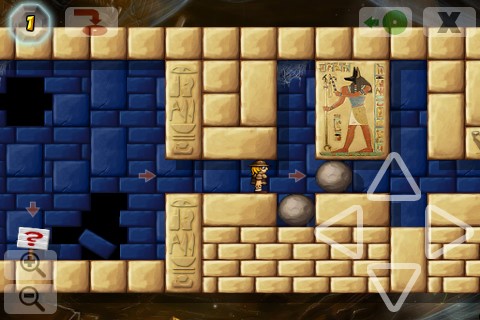 The game was simultaneously released for iPhone, Mac and PC, so there are some elements of the game that don't feel entirely natural on the iPhone. You'll likely find yourself trying to pinch zoom and pan a level, but the game instead offers zoom in and out buttons on the bottom left of the screen. A relatively minor issue, but one you will likely encounter. Meanwhile, Mac and PC demos can be downloaded as well, which will give you an accurate sampling of the iPhone game.
Overall, the game offers a solid level-based puzzle game with over 170 levels that should keep you occupied for a long time.
App Store Link: Crystal Cave Classic, $3.99