Game developer Rake in Grass has released an iPhone version of their innovative puzzle platformer Archibald's Adventures [link] through the iTunes App Store.  We've recently spent some time with this title.  Have a look.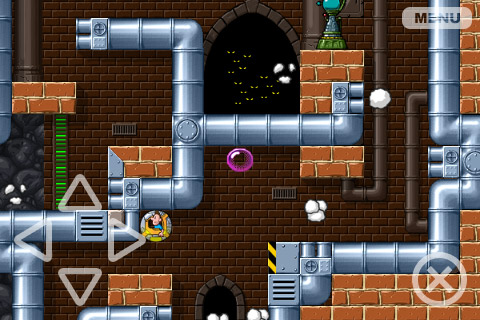 As the story goes,
Archibald and his friends were near a dump behind a mysterious mansion of inventor – professor Klumpfus. Accidently Archie fell down a pipe and ended up in professor's basement. In the same time some crazy experiment went wrong and all genetically engineered creatures escaped from their containment in laboratories, while paranoid central computer locked the whole complex up! Now both Archibald and professor got stuck in the mansion! It's up to you to help Archie to overcome all of the pitfalls of the mansion, and use your skills and wit to guide the heroes through more than 100 uncanny levels!
In Archibald's Adventures, the player controls Archibald, a boy on a skateboard.  Soon, he trades up to a robotic vehicle that can climb along walls and ceilings, and ultimately ends up with a flying jet-powered craft.  He can also summon a floating bubble and send it to do his bidding (transporting objects, pressing remote buttons, etc.).
The game features well done, detailed animation that makes utilizing the various vehicles and controlling the curious balloon a pleasure.  As for control, an onscreen D-pad is used for movement and a single balloon button summons and dispels the aforementioned balloon. The game exhibits an attention to detail scant found in the various platformers currently available in the App Store.  Roll down a wall and jump at the last minute to avoid an array of floor-mounted spikes.  Use the balloon to pick up crates in order to array them one-by-one across an area of water to gain dry passage.  That sort of thing.  It requires puzzle solving skill and provides a satisfying platform experience as reward.
Features listed by the developer:
Go through 114 levels in this mind blowing action puzzle platform game
Experience innovative gameplay with many unique features of the hero: transportation of objects, riding on walls and ceilings, flying with a jet armchair and more
Use your wit and fast reaction to avoid nasty dangers of the mad scientist's mansion
Use the professor's device pod to climb the walls or his artificial intelligence matter to solve riddles
Encounter lots of weird and funny lifeforms running loose in the levels!
Archibald's Adventure on the desktop has met with positive reviews.  The iPhone version is no less enjoyable.  Anyone who longs for a platformer with a little more to offer than the typical jump-stomp-run experience would do well to have a look at Rake in Grass' iPhone offering.  But don't take our word for it.  Try out the Mac OS X or Windows demo version before taking the App Store plunge.
Have a look at our brief gameplay video to get a feel for the action early in the game.  Rake in Grass has posted their own video which provides additional footage.

[ Full HD version | Low Bandwidth version ]
Game Details

Name:

Archibald's Adventure (v1.1)

Price:

$7.99 [Buy]

Developer:

Rake in Grass


Size:

6.4 MB

Device:

Tested on iPhone 3G
Archibald's Adventures is a polished puzzle platformer that's a bit more than just jump-stomp-run.  This iPhone adaptation is just as playable as the desktop version and a solid App Store offering.