Tap Studio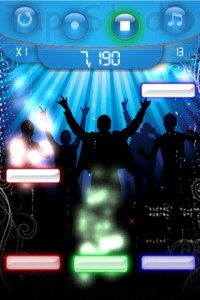 Drop D Studios has released an interesting new type of rhythm game for the iPhone. Rather than bundling their own music, you are given the opportunity to create your own tracks by tapping out the notes yourself, and can then play against your previously recorded session.
Since Apple does not allow enough access for an application to automatically process the music data themselves, developers are left with these sort of workarounds. The most ambitious effort was by Beatrider which actually allows you to upload your music to a server for processing. This procedure, of course, is a bit cumbersome and the quality of the automated processing is variable.
We're not sure what Drop D Studios' plans are for Tap Studio but it seems the obvious next step would be to allow users to share their creations with each other. Unfortunately, the initial release of the game is marred with at least one major bug for users of iPhone OS 3.1 preventing the proper recording of your taps. Some been able to work around this by holding down the record button at least temporarily.
App Store Link: Tap Studio, Free.
Crazy Dunker
It's crazy enough that you just might love it.
KEEP RUBBING your iPhone/iPod to generate the enough power to jump off the ground.

TILT your iPhone/iPod when you get high up in the air to aim at the hoop on the ground.
If you ever wanted to slam dunk from 20,000 feet, here's your chance.
App Store Link: Crazy Dunker, Free