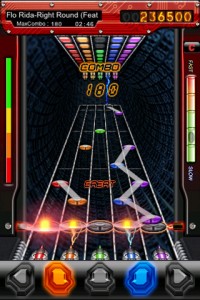 The much anticipated BeatRider rhythm game launched into the App Store tonight with a full version [$4.99] as well as a generous Lite version [Free].
BeatRider is a rhythm game in which the player taps along with the music. While the basic concept is the same as popular apps such as Tap Tap Revenge and Dance Dance Revolution, BeatRider has one unique feature that has not been seen in the app store yet: the ability to use your own music.
There's a reason we haven't seen this feature before — Apple doesn't make it easy. App Store apps are restricted in what they can access and the music library is off limits. In order to get around this restriction, the developers of BeatRider came up with web-based solution that works very well. You simply upload your MP3 or M4A song files to your free account on MyBeatRider. Once uploaded, the songs are processed and available to download within the iPhone application. The app downloads the songs to your iPhone or iPod Touch which can be played later even offline.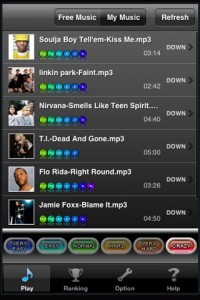 The system works surprisingly well, though given the size of the files (4-8MB) you are transferring, we recommend you stick to fast Wi-Fi connections. Even the Lite version allows you to upload and download songs, giving you the full experience. The difference between the Lite and Full versions is that the Lite only allows you to hold 1 single song while the Full version allows up to 20.
The resulting quality of gameplay can be variable depending on the songs. Songs with strong beats seem to fare better with the automated analysis. MyBeatRider offers a list of frequently played songs and most uploaded songs to help guide your choices. I found Boom Boom Pow by Black Eyed Peas and Paper Planes by M.I.A. to be particularly good songs to try. Meanwhile, TouchArcade forum users are listing songs they recommend in this discussion thread.
The game, itself, works as you might expect. Tap on the notes as they cross the bottom. The game also includes tap and hold as well as tap and slide mechanics. Songs are given up to 6 different levels of difficulty and even the easy difficulties can be challenging. When testing the game out, I recommend sticking to "Easy" and above. As tempting as "Very Easy" is, the resulting note-mapping simply wasn't very fun for several of the songs I tried.
All in all, a really nice title that offers a full featured Lite version to try. Give this one a try.
App Store Link: BeatRider Touch, $4.99, BeatRider Touch Lite, Free