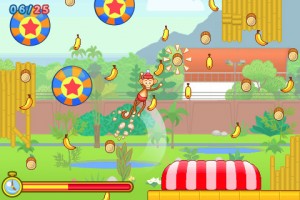 Mobile studio Digital Chocolate has been a major player in the iPhone gaming scene and has claimed to be the #1 iPhone game studio based on downloads. There are definitely games we've liked coming from them such as 3D Brick Breaker Revolution. And most recently California Gold Rush [App Store] is getting rave reviews from forum members as well as forum reviewer Big Albie. However, the majority of their games seem to have a distinct mobile-phone feel to them that seem out of place on the iPhone.
Their most recent game Crazy Monkey Spin [$2.99 / Lite] is reminiscent of DK: King of Swing requiring a monkey from swing from post to post while collecting bananas and reaching the goal.
Crazy Monkey Spin seems to have a lot of content with 60+ levels, achievements and multiple play modes. The game is fun enough as you swipe your way from post to post collecting bananas, and using extra powerups and other level-based assistance (levels, air flow). Of course, the game did start life as a mobile phone game, and still feels like it. While it's what keeps us from getting long term enjoyment out of the game, I suspect the vast majority of the (non-TouchArcade reading) iPhone public probably don't care. However, when you compare it to an iPhone original title like Sway, the differences are apparent.
Of course, they are very different games, but Crazy Monkey Spin has one huge advantage over Sway… and that's accessibility. Casual gamers will be able to pick up Crazy Monkey Spin and probably enjoy it. Sway, however, has a pretty steep learning curve for its iPhone-specific multi-touch controls. And for that reason alone, I suspect the masses may even prefer a game like Crazy Monkey Spin in the long run. You can give it a try yourself for free.
But if you're looking to see how an iPhone-original title plays and willing to put a little time in, check out Sway [$4.99, Lite].

[ Full HD version | Low Bandwidth version ]
App Store Links: Crazy Monkey Spin ($2.99 / Lite), Sway ($4.99, Lite)