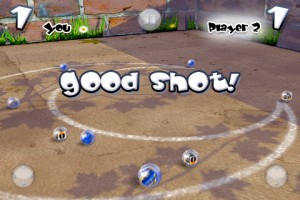 Darkside Entertainment is really on to something here with their amazingly simple yet surprisingly fun game of marbles. Titled simply Play Marbles [App Store], the game offers a large amount of content, game modes and customization.
Play Marbles plays exactly like playing marbles as a kid. Three different variations of play are included, Ringer, Pound, and Moon. To shoot a marble, you just flick upwards on the screen after aiming using the two sides of the screen to control where you're aiming. The controls work well, and marbles can be played on any of the four environments included with six different sets of marbles. You can even customize your marbles with your own photos.
The developer released this great video showing the different game types, how the controls work, and a few of the different play environments:
You can Play Marbles against other people both via local WiFi and by passing your device, and there is even rumblings of different downloadable marble sets and arenas in the iTunes description. If you've never played the long-forgotten game of marbles, here is your chance to give it a try. If you played marbles as a kid on the playground pavement, you're in for a hefty helping of nostalgia.
App Store Link: Play Marbles, $1.99