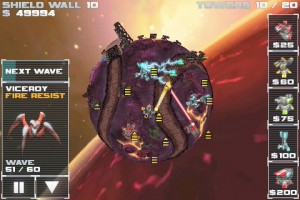 Ngmoco has dropped the price of its 3D tower defense game Star Defense [App Store] from the original price of $5.99 to $2.99. The game has also been updated a few times since its original release. The latest 1.3 update brings a number of new planets and features:
Two new challenge planets are now available. These planets have unique scenarios separate from the campaign missions.
Freeplay mode added. After beating a planet in the campaign, you can now play at your leisure with an unlimited tower cap.
New commendations added. Add to your +Points by unlocking them.
Lefty mode added! You can toggle this setting in options.
We quite enjoyed the fast pace of managing your towers on all sides of a 3D object, but the value of the 3D element had some mixed responses in our forums. We think it's a great value at $2.99, so if you were on the fence before, here's your chance.
App Store Link: Star Defense, $2.99