While I'm sure developers prefer not to be compared existing games, it seems pretty clear that these two games have drawn inspiration from Doodle Jump [$0.99], the strangely addictive platform jumper by Lima Sky. (Of course, Doodle Jump was likely inspired by Papi Jump. )
Regardless, here are a couple of fun Doodle Jump-inspired $0.99 games that are worth a look.
A Doodle Flight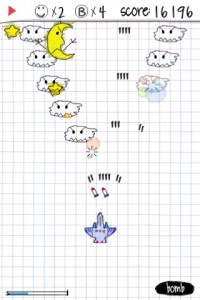 A Doodle Flight [$0.99 / Lite] from j2sighte adopts the nice hand drawn "doodle" art style and applies to a vertical shooter. The game offers both tilt and touch controls to navigate the 8 levels, each with their own boss enemy as well as weapon upgrades.
The game starts off pretty easy but later boss levels start throwing out a barrage of shots rRootage-style (Boss 4 video).
The game comes with a Lite version to try out the controls and has been well received in our forums.
App Store Link: A Doodle Flight, $0.99, A Doodle Flight Lite, Free
321 Jump!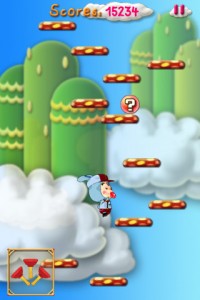 321 Jump! [$0.99] preserves the addictive platform jumping qualities of Doodle Jump and Papi Jump but adds its own power ups and a distinct level progression.
321 Jump! offers mystery power-ups as you go along that can either be good (Superman jump, shotgun, wider platforms) or bad (breakaway platforms, ink splat) but you don't know until you pick them up. Same good tilt controls as its predecessors as well as a global high score leaderboard.
If you were a big fan of Doodle Jump and are looking for more variety, this one is a solid contender.
App Store Link: 321 Jump!, $0.99