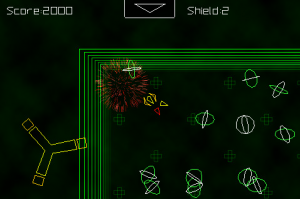 The App Store has become rather awash with Geometry Wars clones of late.  And, while some are better than others, it's hard to argue with a free app — especially when it's a lot of fun to play.  And, such describes Jean-Francois Geyelin's PewPew [App Store].
PewPew is a simple vector-based 2D / 3D shooter that features two different gameplay modes reminiscent of corresponding modes in Geometry Wars: Galaxies.  The 'Dodge This' mode challenges the player to zoom about the playfield, dodging a barrage of enemies.  'Assault' mode pits the player against an onslaught of enemies, with the goal of destroying as many as possible in an attempt to stay alive and rack up points.  The 'Dodge This' mode features one onscreen virtual stick, while 'Assault' features dual sticks, one for motion, one for firing. In both modes the playfield pulses to the beat of the trance soundtrack and power-up boxes can be collected for points and shield energy boosts.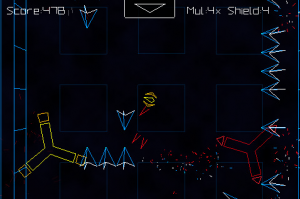 While the game does not have the depth or overall polish of the recently released Isotope, it's quite well done.  In fact, it has a more intense sense of speed than Affogato's release, and makes for a very frantic pick-up shooting session.
And what was that 2D / 3D comment all about?  While actual gameplay is top-down 2D, play sessions are recorded and can be viewed from the high score screen in a side-angle 3D perspective (see the video).  A very nice touch.
The developer promises that additional game modes are on the way, along with an online scoreboard.
PewPew is a rather fun game that every shooter fan should grab.  It's definitely worth the price of admission…

[ Full HD version | Low Bandwidth version ]
App Store Link: PewPew, Free