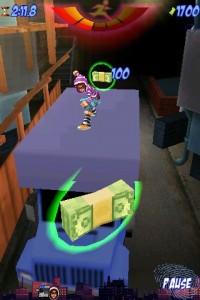 Glu Mobile's (foot) racing / acrobatic game Cops and Robbers [App Store], has gone live in the App Store.
Cops and Robbers involves running through a series of city levels that have a Crash Bandicoot feel and involve parkour-like moves, while collecting diamonds to pay the landlord.
Features listed by the developer:
Run and rob your way through a beautiful city filled with back alleys, high rise rooftops, and other dangerous environments
Complete 9 unique levels, each with 3 challenges: Grab all the loot, Steal the diamond, Evade the cops before time runs out!
Find the most direct path to escape the cops by pulling off well-timed acrobatic running moves
After you beat each level play as the policeman and try to catch the ghost of your former criminal self.
Change the appearance of the playable male and female robbers.
Steal the diamond by cracking the safe in a lock-picking mini-game.
We spent some time with the game at GDC 2009 and found it to be a rather solid looking title and were impressed by its unique role-switching ghost mechanic (mentioned above).
See our video of a development build of the game in action. (Due to the loud ambient noise, we simply muted the audio. The game, of course, has appropriate sound effects.)

[ Full HD version | Low Bandwidth version ]
We'll post a closer look at Cops and Robbers, shortly.  Stay tuned.
App Store Link: Cops and Robbers, $2.99