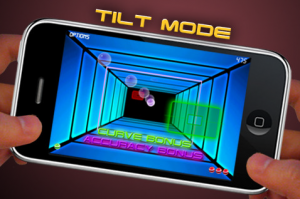 One of the first graphical video games ever made was Pong.  Two lines and a dot.  It was about as simple as you could get, but fun.  In today's world of powerful processors and advanced graphics hardware, the Pong equation can be taken a little farther.  Evidence of this is 3D SpinBall [App Store] from MegaNudge Entertainment.
3D SpinBall, which started life as Flash game Curveball, is Pong in 3D with a little English thrown into the mix.  The player stares down a rectangular corridor with the opponent's paddle at the far end and his/her own translucent paddle in the foreground.  Using accelerometer or touch controls, the task at hand is to deflect a ball towards the computer opponent and, with the help of a bit of spin, trip it up and score some points.
Bonus points are awarded for successfully adding spin to the ball (with an extra bonus for adding the maximum spin possible) and for accuracy (landing the ball in the middle of the paddle).  After four misses on the part of the opponent, the game moves to the next level.  Pace and the amount of the opponent's spin increase from level to level.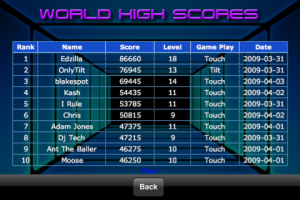 The games features full Pong-ish game sounds and a techno soundtrack from SCI Recordings as well as full 30 frames-per-second onscreen animation and an online leaderboard.
Back in July of last year we took a look at Vector Pong–now known as 3-D Vector Ball [App Store]–a very similar 3D Pong game from Gyrocade.  While we reviewed an early version of the game, 3-D Vector Ball has come a long way, adding in a touch control option as well as WiFi head-2-head gameplay.  It features a panning view of its overall larger court but, due in part to this, I find it to be a rather more difficult game.  I prefer the gameplay of 3D SpinBall, despite its lack of a head-2-head mode.
I've spent a good bit of time with 3D SpinBall (granted, I was driven to rank #1 and make the attached leaderboard screenshot a bit more impressive, but it was not to be…) and find it highly playable and a solid value at just $0.99.
See our brief gameplay video to get a taste for the game's first few levels.
[ Full HD version | Low Bandwidth version ]
App Store Link: 3D SpinBall, $0.99