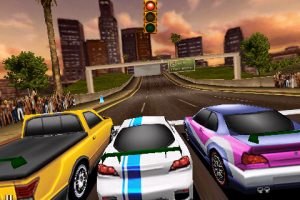 I-play and Firemint have released a new Fast & Furious [App Store] iPhone game to the App Store this morning. This racing game is a tie-in to the Fast & Furious movie that is also opening today.
The game is more of an arcade racer than a traditional sim racer. It ties in with scenes inspired by the actual movie and offers a story mode that takes you through the different races. The game offers 36 different vehicles, 18 levels with 4 unique environments.
Most interesting, however, is the fact that Firemint seems to have developed the game with some of the technologies that are also coming in Real Racing. For example: Fast & Furious integrates the CloudCell technology, allowing players to compete against others in online and upload replays of your races to YouTube.
A sample replay video is embedded here. No other cars are shown since you are simply trying for the best time to rank on the leaderboard against others.
The game also offers local Wi-Fi multiplayer races alongside the online leaderboard competitions. As an arcade racer, the controls are somewhat simplified as compared to more traditional racers. Controls are accelerometer based with automatic acceleration. Braking can be performed by tapping on the screen. The game also adds a "nitro" boost to provide that extra bit of acceleration.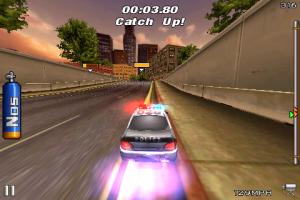 The game revolves around specific racing missions that mix up gameplay. These include chasing down other cars and taking them out, checkpoint ("GPS") racing, drag racing, drift racing, and more. Beyond story mode, each mission can also be played in a "Quick Race" that lets you practice whatever race you'd like.
The game ran smoothly on my iPhone 3G, and is visually appealing. Compared to many of the other racers out there, this one offers much more of a "fun" arcade feel.
This gameplay video shows the first mission (with full cut scenes which can be skipped) and a drag race in a tunnel. Beyond these, there are more traditional street races against multiple cars where pink-slips are on the line.

[ Full HD version | Low Bandwidth version ]
Update: This official trailer (YouTube) shows a glimpse at all the different gameplay modes.
App Store Link: Fast & Furious The Game, $5.99