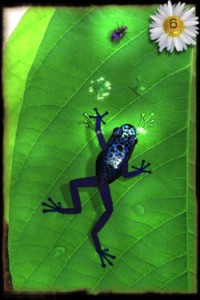 One of the more interesting puzzle games we've seen appear in the App Store is Ancient Workshop's Ancient Frog [App Store, $4.99].  We took a look at this one earlier this month and found it to be a highly challenging and unique game–sort of a zen experience.
The goal of the game is to move a lifelike frog from the bottom to the top of the screen so that it may eat a fly that has unwisely lighted upon it.  This involves moving one leg at a time to and from various marked foothold points via touch / drag in a fashion that brings to mind the game of Twister.  When any of the frog's feet are touched all points of foothold that can be reached by that foot, given the frog's current orientation on the leaf, are illuminated.  It's an interesting challenge that starts out quite easy but quickly becomes (maddeningly?) difficult.
For those wanting a closer look than the developer video (of the paid app) provides…
…Ancient Workshop has just released Ancient Frog LE [App Store] , a 'lite' version of the company's addicting puzzler.  Ancient Frog LE features "a smattering of levels and a couple of frogs, so you can try it for free and see if you want to pay for the full experience."  We encourage anyone on the fence to spend some time with the lite version to experience this notable iPhone release.
App Store Link: Ancient Frog LE, Free