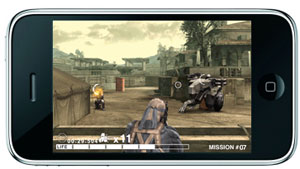 Metal Gear Solid Touch will arrive in the App Store on March 19th, and the upcoming title has been a hot topic of discussion lately, what with its tap-to-shoot gameplay that is a departure from the style of the popular console franchise.  G4 recently spoke with the game's producer Yasuyo Watanabe and director Ikuya Nakamura about their upcoming iPhone release.
In the interview, director Nakamura shares a few gameplay details.
G4: Kojima Productions is known for taking advantage of new hardware for some great gameplay. How will multi-touch change the way we control Snake?

Ikuya Nakamura, Director: The theme for MGSTouch is "Simple MGS."

As a result, we have come up with a simple, yet strategic control scheme that takes advantage of the unique strengths of the iPhone/iPod Touch platform.

G4: How does the actual gameplay work with targeting and shooting? Is it an on-rails shooter? How much control do you actually have with Snake?

Nakamura: Players can trace their finger along the screen to move the targeting sight, then tap the screen to fire at enemies. Headshots are possible.

In addition, you can pinch out on the screen to switch Snake's weapon to a sniper rifle, or lift your finger from the screen to take cover and hide behind walls.
They indicate that the iPhone holds appeal for Kojima because of its unique input methods, large high resolution screen, and the fact that, as a platform, it holds the potential to get the game into the hands of those outside their typical gaming audience.  Kojima hopes that once people get a glimpse of the Metal Gear Solid world through Metal Gear Solid Touch, they will become interested in the overall series.