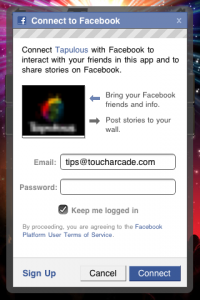 As Pocket Gamer reports, the first games that support Facebook Connect have appeared in the App Store.  Facebook Connect is a framework provided by Facebook that developers can utilize in order to allow players to link games to their Facebook profile for automatic posting of high score info to their profile feeds.
A recent update to Tap Tap Revenge 2 [App Store] (v2.0.1) adds Facebook Connect functionality to the game and iBowl's [App Store] recent (v5.0) update brings the functionality to the SGN title, as well.
The ability to link iPhone games to one of the internet's top social networking websites has the potential to bring the iPhone gaming community together in a whole new way.  Seeing what games your friends' are playing and how they're besting your score on your favorite game–in a place you visit daily anyway–should add a nice element of competition to titles that support the new service.