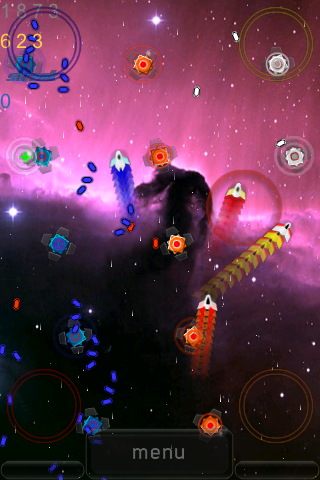 Space Ninja has been one of our favorite iPhone games with an excellent use of the accelerometer. We first reviewed the game in January and found it to be a unique iPhone experience.
The ship itself is controlled using the accelerometer — which is nothing new — but also provided is an unlimited "bullet time" (slow motion) mode where by simply tapping down and holding your finger to the screen, the action slows down and the view slowly zooms in so you can perform more exact movements with the accelerometer.
The developer has since released a Lite version [App Store] of the game to try out and has just dropped the price of the full version to only $0.99 [App Store] for this weekend.
Also just added is the option for up to 4-way multiplayer on the same device. The developer accomplished this by allowing for a virtual joypad to control each ship's movement. We haven't had time to extensively test this feature out, but the controls worked better than we had thought they would.
We highly recommend at least giving the Lite version of Space Ninja a try, and at $0.99 the full version is a steal.
App Store Link: Space Ninja Lite, Free, Space Ninja, $0.99