We recently reported that Chillingo's iDracula [App Store], still sitting at the #1 spot in the iTunes App Store, would soon be getting a major update.  The developer posted details to our forums.
Don't have much time, but wanted to say that a new game mode is amazing – I just love it . As I see in the recent messages, someone suggested it – it's Wave Attack, where monsters attack wave by wave, with a chance to give you a rest between. I've also made a different Perk system for this mode.

Ah, and there will be another mode, which is not done yet, but should be fun, too. I won't reveal details on this one. Let it be surprise.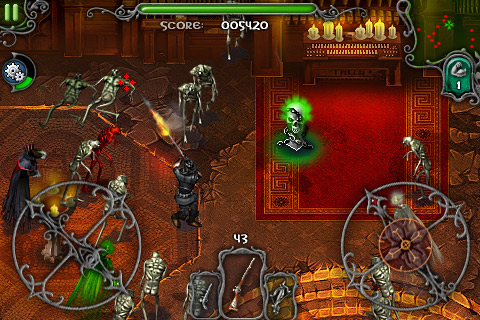 We've since learned more of what the v1.1 update will bring:
2 new levels
2 new weapons
2 new game modes
Online highscore system
Various minor fixes and tweaks
Chillingo has recently posted a gameplay screenshot in our forums showing one of the new levels (above) and released a short video that reveals a number of the update's features.
The iDracula v1.1 update should be available in early March.