FlipSide5, who brought us the free, enjoyable Touch Hockey: FS5, has recently released their take on the Asteroids formula, Oort Storm: FS5 [App Store].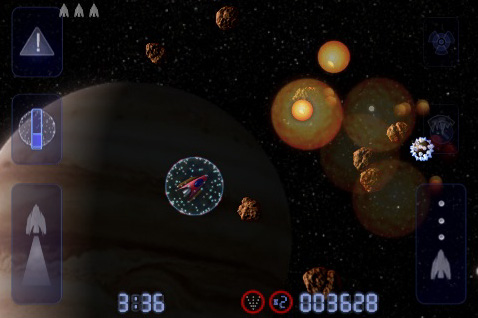 Unknown forces have disturbed the Oort Cloud at the edge of our solar system, launching huge numbers of asteroids, mines, and alien artifacts that threaten to destroy the Earth. Use your shield, 3-way fire, Pulse Bombs, and AutoChron 'time freeze' along with all of your skill to make it through 9 levels and prevent the end of civilization if you can! When you're done, submit your score on the Global Ranking leader-board and see how you compare!
Oort Storm is an enjoyable, well done iPhone space shooter that brings a number of enhancements to the age old Asteroids formula such as power-ups, shields, and point multipliers.  The graphics are simple but well rendered and the accelerometer-based directional controls, available in both "point" and "turn" modes, are solid.  Thrust, Shields, and Hyperspace buttons are on the left side of the screen while Fire, AutoChron, and Pulse controls sit on the right.
Oort Storm is a simple, fun space shooter that I'd recommend to any shooter fan out there–but don't take my word for it.  While the paid app is available for $2.99 [App Store], FlipSide5 has also released a one-level "lite" version [App Store] for those that want to try before they buy.
See the developer's gameplay video for a closer look:
App Store Link: Oort Storm: FS5, $2.99, Oort Storm: FS5 Lite, Free