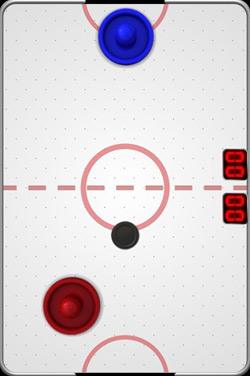 Air hockey fans have had a number of iPhone touch-based options in the iTunes App Store, some solid–some less so.  But until the release of Touch Hockey: FS5 [App Store] by FlipSide5, none were available as a free download.  And, happily–this one is solid.
Features listed by developer:
Instant Replay
Multi-player WiFi local network support
Real-time 3D mallet rendering
9 levels for 'smart' one-player game play
4 game length settings
Topping support (trap the puck with your mallet / paddle)
Graphics engine runs at an astonishing 60 frames per second, even during WiFi network play
Touch Hockey: FS5's featureset compares quite favorably to the better paid titles in the App Store.  It offers smooth touch-based gameplay that feels "right."
Touch Hockey: FS5 is an ad supported game; ads display after five minutes of gameplay.
Some other offerings fans may want to check out:
Air Hockey from Acceleroto [$0.99, App Store]
Air Hockey Fingertip Sports from Sea Lion Games [$2.99, App Store]
Hockey from IKKooN [$0.99, App Store]