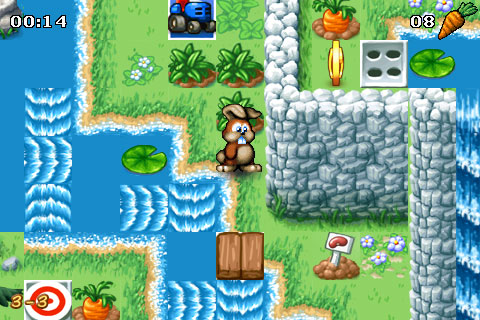 Lite Version
FDG Entertainment has released a Free lite version [App Store, free] of their excellent puzzle game Bobby Carrot Forever [App Store, $7.99]. We reviewed the full version of the game in January and found it to be a "must have" for puzzle gamers:
Bobby Carrot Forever is a level-based puzzle game that requires you to navigate obstacles in order to collect all the carrots and reach the exit. 60 levels provide a refreshingly challenging puzzle game that offers well over 15 hours of gameplay. This game is easily a "must have" for fans of the genre and is also highly recommended for others.
A 1.05 version update for the full version was recently released which adds a number of features that were requested by our forum members. These include a "swipe" control method, auto flip screen and some minor bug fixes. The developers have also let us know they will be quickly following up with some additional interface tweaks in a 1.1 update (quicker level reset, level select) "soon".
More Levels
Following the 1.1 release will be another free update which will add a 7th World called "Surreal" to the full version of the game. This 3-star difficulty world will introduce a new music track and will be accessible with a "secret entrance". This should add more play-time to the already 15+ hours of gameplay.
Win a Copy
FDG Entertainment is giving away 5 copies of the full version ($7.99) of the game to TouchArcade readers. Only available for U.S. residents:
1) Play the entire Lite version and count all carrots you must collect
2) Send an email to [email protected] with the following information: the Subject "TouchArcade" and the body of the email with the number of carrots from step #1 and your name or nickname.
3) Send the email within 24 hours of the posting of this article
4) Winners selected at random from pool of correct answers. Winners announced within 48 hours
Winners:
The correct answer was 51 and the following readers won: DonBurns99, Fleabag323, hollerbee, Ryan, and Kevin. Congrats!
App Store Links:
Bobby Carrot Lite, Free
Bobby Carrot Forever, $7.99